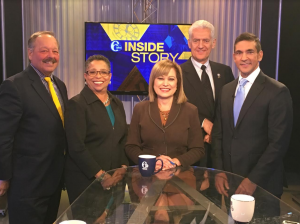 Every Friday afternoon, we provide a preview of the various Sunday morning political talk shows that are filmed and broadcast throughout the commonwealth.
Our hope is to alert readers to the important interviews and insights that each show in their region offers.
@Issue
NBC10-Philadelphia-11:30 a.m.
This week we discuss claim of rigged elections and fears of voter intimidation with the Committee of Seventy President David Thornburgh and Election Board Official Ryan Godfrey. We also separate some of the fact from fiction about soaring health insurance premiums. And we talk to a local doctor who says you can "skip the prep" you know, that unpleasant drink, before getting a colonoscopy.
Face the State
CBS21-Harrisburg-11:30 a.m.
We welcome candidates for the 15th Senatorial District – Incumbent Senator Rob Teplitz and Republican challenger John DiSanto.
Inside Story
6abc-Philadelphia-11:30 a.m.
Host Monica Malpass and our Insiders discuss Former Attorney General Kathleen Kane's prison sentencing. Other topics include an update on the PA Senate and Presidential race, a look at what was approved during the PA Legislature's last day in session, possible tax hikes in Atlantic City and Chester County, and issues of racial discrimination in Philadelphia's gayborhood. Catch the Inside Story…Sunday at 11:30 a.m. on 6abc.

Roundtable
Sharmain Matlock-Turner
Ed Turzanski
Nelson Diaz
Val DiGiorgio
Journalists Roundtable
PCN-Harrisburg-9:00 p.m. (Originally aired Thurs. 7:00 p.m.)
Journalists Roundtable travels to the offices of Philly.com this week to meet with reporters who write for the Inquirer and Daily News. Pennsylvania is still listed as a toss up in both the presidential and U.S. Senate race with less than two weeks remaining until the general election. This week's guests are Political Writer and Columnist Chris Brennan, and Staff Writers Justine McDaniel and Maria Panaritis. Our host is Brian Lockman.

KD/PG Sunday Edition
CBS2-Pittsburgh-8:30 a.m.
This Sunday morning at 8:30 a.m., on KDKA-TV's "KD/PG Sunday Edition", with KDKA-TV News Anchor Stacy Smith and John Allison – Editorial Page Editor of the Pittsburgh Post-Gazette:

On this week's broadcast, we'll address allegations by Republican Presidential nominee Donald J. Trump, that the 2016 Presidential election could be "rigged" – or that there could be voter fraud – in states, including Pennsylvania.

Our guests include Mark Wolosik – Division Manager of the Elections Division, for Allegheny County, Michael Shamos, Ph.D. – Distinguished Career Professor at the Institute for Software Research and Language Technologies, at Carnegie Mellon University's School of Computer Science – and an expert, in the operation of electronic voting – and Bradley Wilson – Information Scientist, at RAND Corporation's Pittsburgh office. Wilson has helped to write software and simulations, to solve computer problems – for the United States Army, Navy, Air Force, Department of Homeland Security, and the office of the U.S. Secretary of Defense.

Don't miss, this informative and timely discussion about how votes are counted, in Pennsylvania and Allegheny County – on the "KD/PG Sunday Edition" – Sunday morning at 8:30 a.m., on KDKA-TV!
Pennsylvania Newsmakers
WGAL Channel 8 (Harrisburg and Lancaster) Sunday, October 30th at 11:30 a.m.
WBPH (Lehigh Valley and Philadelphia) Monday, October 31st at 8:30 p.m.
WKBS 47 (Altoona) Saturday, November 5th at 9:30 a.m.
WPCB 40 (Pittsburgh) Saturday, November 5th at 9:30 a.m.
This week's Pennsylvania Newsmakers features Steve Esack of the Allentown Morning Call, who discusses pensions, beer sales, the casino host fee fix, and more. Then, joining host Terry Madonna is Pedro Cortés, Secretary of the Pennsylvania Department of State, who discusses the steps taken to prevent election fraud, and timely information for voters before they cast their ballots on November 8th. Link here.

PMA Perspective
PCN-8:30 a.m.
This week we showcase two iconic Pennsylvania companies, Knouse Foods and Boyer Candy. First, Carl Marrara visits Knouse Foods in the height of the fall harvest to see how they make Mussleman's Apple Sauce and Lucky Leaf Pie Filling. David Taylor then shows us how Boyer Candy makes the world famous Mallow Cup that will surely be a favorite Halloween treat!
The Sunday Business Page
CBS2-Pittsburgh-6:30 a.m.
This Sunday morning at 6:30 a.m., on KDKA-TV's "The Sunday Business Page", with KDKA-TV's Money & Politics Editor Jon Delano:

On this week's broadcast:

Hunger is a growing problem – BOTH – in Southwestern Pennsylvania and the United States – and its victims come from every kind of neighborhood, background, income level, age, and family size. Children and the elderly are among the most vulnerable.

This week, KDKA-TV launched its annual "KD Turkey Fund". We'll talk with Charlese McKinney – Network Development Director for the Greater Pittsburgh Community Food Bank — about where the money goes – and how you can help double the size of your donation – with a match, from PNC Bank.

Then, how a revision of some state laws, will change the operation of ground passenger transportation in Pennsylvania. Jamie Campolongo – President of Pittsburgh Transportation Group – joins us – with the new "road map" – for transportation network companies – or – TNC's – including Uber & Lyft.

Campolongo's Pittsburgh Transportation Group operates Z-Trip Taxi, Yellow Z, Yellow Cab,  PTG Charter Services, Pittsburgh Tours & More, Execu Car/Embassy Coach, and the Super Shuttle.

Finally, we'll introduce you to a woman – whose Architectural Innovations – based, in Pittsburgh – is the largest, woman-owned architectural company headquartered in the Commonwealth of Pennsylvania. Its President/Owner — Jan Brimmeier — talks with Jon Delano, not only about the kinds of designs for buildings, but also, about her special effort to diversify the architecture profession – and encourage people from different backgrounds, to consider it, as a viable and satisfying career.

Please join Jon Delano, Sunday morning at 6:30 a.m., for "The Sunday Business Page", on KDKA-TV!