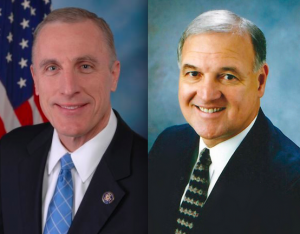 Update: Rep. Tim Murphy (R-Allegheny) released his second quarter fundraising figures Sunday, and it appears the primary took its toll.
In the second quarter, Murphy's campaign raised $290,125 and spent $654,528.78, leaving him a healthy $1,024,586.76 in cash on hand. Unlike Maggi, who ran unopposed in the Democratic primary election, Murphy faced a competitive primary in challenger Evan Feinberg. More hours courting voters means fewer hours calling donors – hence the slowdown.
Though Maggi trails Murphy by about $600K ($1M to $400K), his bankroll likely has the attention of national stakeholders.
—
Fortunes appear to be looking up for Larry Maggi in the race for Congress in PA-18. The Washington County Commissioner reports having raised $203,000 in the second quarter and $405,000 cash on hand, each the largest amount ever for a challenger to Rep. Tim Murphy (R-Allegheny).
The announcement today comes after a successful first quarter where Maggi raised $169,254. Unlike last time however, when Maggi lent himself $126,000, none of the latest haul came from loans. With a pair of successful fundraising efforts in hand, Maggi renewed his hopes of earning further recognition from the Democratic Congressional Campaign Committee.
Currently, the DCCC classifies Maggi's campaign an "Emerging Race." The ultimate goal is to win a spot on the committee's "Red to Blue" list, the top recognition for challengers and a boost for future fundraising.
Murphy's been serving since 2002. While he hasn't released his Q2 numbers yet, he finished March with $1.4 million on hand. He subsequently fended off a primary challenge from Evan Feinberg and it remains to be seen how much he was able to keep in the bank.
Maggi's campaign notes that his $405K cash on hand exceeds that of any Murphy challenger ever, easily surpassing 2008 challenger Stephen O'Donnell, who had 200,485 in the first quarter of 2008. O'Donnell raised about $340,000 the entire cycle, also the most of any Murphy challenger. The maximum raised by a Murphy challenger in a quarter was $90,000 by Dan Connolly in the third quarter of 2010.
Tyler Foote, a spokesperson for Murphy's campaign, said that Maggi's cash on hand isn't as impressive when one breaks down the numbers.
"What Larry Maggi doesn't want the voters to know is how he personally loaned himself $126,000 and has been holding onto $65 grand from his last failed congressional race a decade ago when he placed an embarrassing third in the Democrat primary," Foote said.
"Larry Maggi also wants to hide the fact that he's pocketing personal and PAC donations from Nancy Pelosi and her liberal allies who know he will be a rubber stamp for the disastrous Obama agenda of more 'stimulus spending, higher taxes, massive debt, Obamacare, and schemes like job-killing cap-and-trade that will shut down Southwestern Pennsylvania coal."
In a press release from his campaign, Maggi attributed the successful fundraising efforts to his ideals as a congressional candidate.
"Let's slash wasteful spending and balance the budget—not on the backs of seniors and the middle-class," Maggi said.
"Congressman Tim Murphy voted to force seniors to pay $6,000 more per year in out-of-pocket Medicare expenses just to give tax cuts to millionaires.  Those may be the values of his party leaders and the DC special interests, but those are not the values of Southwest Pennsylvania."