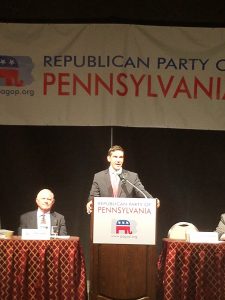 Hershey — After a heated campaign, the Pa. Republican Party has a new leader: Chester County GOP Chairman Val DiGiorgio.
He overcame GOP General Counsel Lawrence Tabas of Philadelphia by a nose, 173 votes to 171 in the official count. PoliticsPA will update with the confirmed final tally.  One person abstained.
DiGiorgio will take over for Rob Gleason, who has served as Chair since 2006.
The morning began with candidates, Lawrence Tabas and Val DiGiorgio aggressively arguing over whether proxies were filed properly and if people were actually in attendance who had checked in.  Over the course of the morning, the number of absences recorded went from 22, to four.  
It turned out that every vote mattered: the roll call came almost to the end, with Westmoreland County's delegation putting DiGiorgio over the edge.
"I decided to run with you in mind.  To build a grassroots organization from the bottom up, to be in every county to talk to you on a regular basis and get your input and your counsel," DiGiorgio said in his remarks.  
Lawrence Tabas gave words of inspiration to DiGiorgio in brief remarks.  
"Val, I know you will be a great leader," Tabas said.  
Tabas filed his official resignation as General Counsel this morning, his 14 year tenure ended at 9:31 this morning.  
The day included elections for all of the leadership positions with the Party, the new Leadership team is listed below:
Vice Chair: Bernadette Comfort, Lehigh County  
Treasurer: D Raja, Allegheny County
Secretary: Andy Reilly, Delaware County
Assistant Secretary: Peg Ferraro, Northampton County
The Party also voted to endorse for statewide judicial offices.  The Party endorsed the following candidates:
Supreme Court (One vacancy):
Justice Sallie Updyke Mundy, Tioga County
Superior Court (Four vacancies):
Judge Emil A. Giordano, Northampton County
Judge Wade A. Kagarise, Blair County
Judge Paula A. Patrick, Philadelphia County
Craig W. Stedman, Lancaster County
Commonwealth Court (Two vacancies):
Judge Christine Fizzano Cannon, Delaware County
Paul N. Lalley, Allegheny County
Disclosure: The author formerly worked for the Pa. Republican Party.