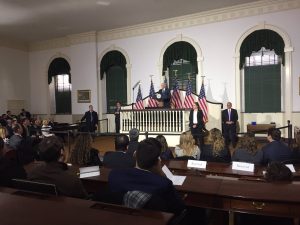 With a couple of hundred of protesters outside Congress Hall, Vice President Mike Pence spoke to the Federalist Society and urged them to help support Judge Neil Gorsuch's nomination to the Supreme Court.  
According to the Philadelphia Inquirer, Pence spoke to the room of about 120 people and promised them that Gorsuch have a vote, one way or another, including using the "nuclear option" which would remove the filibuster from the Democrats' arsenal.  
Outside, a few hundred protesters gathered a block from the event side to protest Pence's visit to the city.  
"No Pence! No fear! Philly doesn't want you here," chanted the group according to the Inquirer.
The group joined a group of several thousand for a March for Humanity.