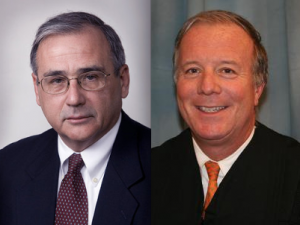 Philadelphia Municipal Court Judge Joe Waters holds a significant lead in the money race over his opponent Allegheny County Common Pleas Judge Jack McVay Jr. according to the latest campaign finance reports. It remains to be seen, however, how the candidates will approach the final week of the campaign with such low funds.
Waters was able to raise $57,730 over the last month while McVay received only $10,400 in their bids for Pa. Superior Court. Waters has $20,000 on hand to McVay's $4,000.
The lack of substantial on-hand cash for either candidate suggests that there will be no TV and few if any radio ads in the Democratic primary race. Instead, it appears the candidates will have to focus their scarce resources on campaign literature and other grassroots methods to raise their name ID and win over voters.
That approach is typical for low-profile judicial candidates who to win votes often rely on the fact that their county of origin is included on the primary ballot.
Waters was endorsed by the Pennsylvania Democratic Party back in February. McVay got the endorsement of both the Philadelphia Inquirer and the Pittsburgh Post-Gazette.
Vic Stabile is running uncontested in the Republican primary. His latest report was not available on the Department of State's website as of Sunday; he had $15,300 as of April 1. Donor Carmen Shick gave him $5,000 on May 8.
This fundraising report covers the period of April 2nd to May 6th, and is the last that is mandated by law to be released before the May 21st primary elections.
The full financial report numbers are listed below:
Joseph Waters
Raised: $57,730.12
Spent: $37,927.06
Cash on Hand: $19,803.06
Nearly half of Waters haul this cycle, $25,000, came from the state's labor unions. Waters received support from several unions including the PSEA, Teamsters, IUPAT, and AFSCME.
In the last week, Waters has also raised an additional $22,000, nearly half of which came from the Carpenters PAC, according to 24-hour reports on the Department of State's website.
Jack McVay Jr.
Raised: $10,400.00
Spent: $6,199.25
Cash on Hand: $4,200.75

The majority of McVay's money came from $7,000 in contributions from the Political Action Committee of the Pittsburgh branch of the law firm Burns White LLC.