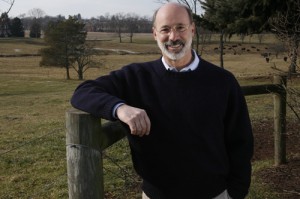 Gov hopeful Tom Wolf just added more muscle to his campaign team.
Mark Nicastre, who was in charge of communications strategy for the Pennsylvania Democrats in 2010 and 2012, is joining his campaign. He will be Wolf's chief spokesman.
In a press release first reported by the Philadelphia Inquirer, Mark Nicastre spoke highly of Wolf's credentials.
"In Tom's experience in both the private and public sectors he has shown he is a different type of leader," Nicastre said. "His vision to change Pennsylvania and fresh policy ideas will make him a strong governor, and I look forward to working with him."
Nicastre was promoted from Communications Director to Deputy Executive Director of the party after the 2012 cycle.
The state party has not named a replacement. Current spokesman Marc Eisenstein and Deputy Press Secretary Beth Melena are expected to assume expanded roles.