Yes, you read that right. Democratic gubernatorial candidate Tom Wolf has come out with another video for his campaign.
The beginning of the video highlights Governor Tom Corbett's missteps regarding public education. A shot of Corbett speaking at a podium fades in with a headline from the Pittsburgh Post-Gazette: "Corbett swings budget ax at schools, colleges."
"I think that what has gone on at the state level has made the job of the local school board infinitely more difficult," says school board member Ellen Freireich, one of the public school representatives who speaks in the ad.
The majority of the video is dedicated to these employees speaking to the camera about how Pennsylvania needs a leader who will lead the school systems from where they are now to "greatness," according to retired principal Glenn Caufman. And just who is that leader?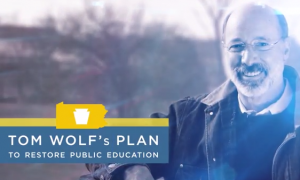 Wolf, of course.
Retired teacher Barb Hellman says, "I think Tom Wolf has always had education as a priority. I mean, that's a good thing, as far as I'm concerned. We need a governor who has education as a priority."
Wolf's plan to help restore public education to its former glory makes an appearance on the screen at one point: charging oil and gas companies a five percent tax to help fund education and universal pre-k for all children in Pennsylvania. He also plans to create a fair funding formula that would make high-quality education more accessible.
The gubernatorial hopeful himself then makes an appearance, talking about the positive effect that his and his wife's teachers had on them. Hellman comes back and says that Wolf has always believed education to be important for his own children, and that he's an active parent in their school.
"I would have a lot of confidence that Tom Wolf would do the right thing for education," Hellman says near the end of the video. Caufman and Freireich also sing Wolf's praises as an education leader before the ad comes to an end.
In the midst of his ad-dropping, Wolf came out with a thorough policy plan that contains the entirety of his proposal for public education.
In the race for the Democratic primary, Wolf is up against State Treasurer Rob McCord, Rep. Allyson Schwartz, former DEP Secretaries Katie McGinty and John Hanger, Lebanon County Commissioner Jo Ellen Litz, and pastor Max Myers.