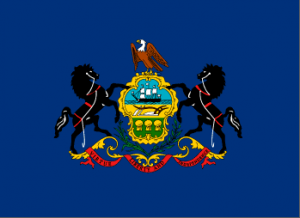 Lalley to run for Commonwealth Court again, Meehan edges out Casey and we ask about the appropriateness of Chaka Fattah's sentence. Good morning politicos, here's the Playbook!
Lalley Enters Commonwealth Court Race: The 2015 GOP nominee is giving it another shot.
Reader Poll: What Do You Think of Chaka Fattah's Punishment?: We ask our readers whether the Congressman was treated too harshly or not harsh enough.
Reader Poll: Meehan Edges Out Casey: It could be a close Senate race in 2018.
Statewide
State House Sound Bites: Study: there's a correlation between Trump support and the opioid crisis
State House Sound Bites: Layoff prep in full swing at state UC centers
StateImpactPA: EPA: Fracking can impact drinking water
PLSReporter: Pittsburgh City Council passes conversion therapy ban for LGBTQIA+ youth
PLSReporter: House Republican leaders hold pre-session pow-wow
Philadelphia
Inquirer: Fattah codefendants Nicholas, Brand sentenced to prison terms
Inquirer: Pension costs to climb higher than expected for school districts
Daily News: Are there no heroes to stop state layoffs?
Philly.com: Penn: Shakespeare portrait is moving, not disappearing
WHYY Newsworks: Philly school district finance chief: Forecast looks shaky after election
WHYY Newsworks: Trump elector feels the heat
SEPA
Bucks County Courier-Times: Bensalem will continue to receive $10 million annually from Parx
Bucks County Courier-Times: Montgomery County prosecutors argue to allow 13 other Cosby accusers to testify at criminal trial
Delco Daily Times: Middletown officials cut taxes
Delco Daily Times: Lofland heads Springfield School Board
Pittsburgh
Post-Gazette: Peduto, conservatives spar over sanctuary city status
Post-Gazette: Money from Cures Act will fight opioid abuse
Post-Gazette: Feds move to require new cars to 'talk' to each other
Post-Gazette: Federal officials say data show ACA has benefited Americans
Tribune-Review: UPMC partners with hospital in China
Tribune-Review: Vote delayed on controversial high-end housing in East Liberty
Southwest
Altoona Mirror: Blair to abolish jury commissioner posts
Altoona Mirror: Tax change projections on target
Beaver County Times: Classes canceled as Ambridge teachers begin strike
Beaver County Times: Casey among Senate Democrats demanding special intelligence report on claims Russia manipulated election
Beaver County Times: Hundreds turn out for Shell hearing in Potter Township
NEPA
Times Leader: Luzerne County Council approves 4 percent tax hike in 2017
Times Leader: Butler Township adopts budget that holds line on property taxes
Times Leader: Laflin residents question council on potential tax increase and intended purpose of financial reserve
Times-Tribune: Even with a tax hike, Scranton school deficit remains
Times-Tribune: Attorney general-elect hears elderly concerns at forum
South Central
Patriot-News: ChesCo state Rep. asks for recount in contested House race, report
Patriot-News: Harrisburg council approves 2017 budget with millions for capital projects
Patriot-News: Will Harrisburg wall collapse ever get cleaned up? Insurance questions create another delay
York Dispatch: New armory delayed by federal, state funding
York Dispatch: New president of York Newspaper Co. announced
Lehigh Valley
Morning Call: Allentown council overrides budget veto despite likely lawsuit
Morning Call: Lehigh Valley housing inventory drying up
Morning Call: Pa. state police on lookout to fill 500 job openings
Reading Eagle: Pennsylvania death penalty report late again
Reading Eagle: Railroad building train station in Muhlenberg
North by Northwest
Erie Times-News: Erie refugee community awaits Trump's immigration policy
Erie Times-News: Erie City Council majority OK with 2017 budget proposal
Centre Daily Times: Casey, Thompson address alleged Russian hacking issues
Opinion
Daily News: Here's why the Daily News has endorsed so many corrupt politicians
Philly.com: Bob Dylan's acceptance speech for Nobel Prize in Literature
Post-Gazette: Making rivers work: Approval of new lock construction is long overdue
Post-Gazette: Let's go, Pens: Development delays near the breaking point
Post-Gazette: A public safety pop-up: Give the city police a Downtown presence
Blogs
2 Political Junkies: What Is It With Trump And Fraud Investigations?
Keystone Crossroads: How Ontario's vision of equity for schools contrasts starkly with Pennsylvania's
Keystone State Education Coalition: PA Ed Policy Roundup Dec 13: How Investing In Preschool Beats The Stock Market, Hands Down