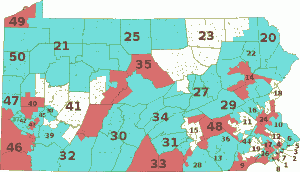 A big new name enters the Gov 2014 conversation as PA Society kicks off today. Good morning politicos, here's the Buzz.
Exclusive: Castor Mulling Primary Challenge to Corbett: Bruce Castor is considering challenging Governor Tom Corbett in the 2014 Republican primary, the Montgomery County Commissioner told PoliticsPA.
DePasquale Announces Transition Team: Forget John Kerry and Susan Rice. Auditor General-elect Eugene DePasquale announced his transition team on Tuesday. It contains a number of familiar names from the Rendell era.
The Full 2012 PA Society List of Events: Heading up to NYC? Here's the skinny on all the events and receptions.
Statewide
Capitol Ideas: Rep. Brian Sims to fellow Rep. Mike Fleck: "Come on in, the water's fine."
Capitol Ideas: Report: MontCo's Castor considering 2014 primary challenge to Corbett.
PA Independent: Costs increases proving tough challenge for budget plan
PA Independent: WATCHBLOG: Breakdown of salary, benefit cost drivers in next year's budget
StateImpactPA: The Energy Information Administration's New Report, In Four Charts
StateImpactPA: EQT And Consol Bid To Drill At Pittsburgh-Area Airports
StateImpactPA: Drill Bits: Fossil Fuel Divestment, Impact Fee to Upgrade Parks, and Frack Water DNA Analysis
Capitolwire: POINT OF ORDER: A closer look at PA's economy, by the numbers.
Capitolwire: State could lose $300 million if 'fiscal cliff' deal not reached.
Capitolwire: Next budget shaping up to be 'most difficult' of Corbett administration.
Capitolwire: OFF THE FLOOR: P3s, not driver fees, to form user fee part of Gov. Corbett's transportation plan.
Capitolwire: OFF THE FLOOR: Gov. Tom Corbett's birth of a salesman, but still a GOP legislative critic.
Capitolwire: Public vetting of Lottery gaming expansion needed, Democrats say.
Philadelphia
Philadelphia Inquirer: Montco's Castor may challenge Corbett
Philadelphia Inquirer: Crossroads weighs in vs. Obama on fiscal cliff
Philadelphia Inquirer: Union chief wants Nutter to take away raises
Philadelphia Inquirer: New Jersey's post Sandy bipartisanship is slipping away
Commonwealth Confidential: Montco commissioner Castor considers primary challenge to Corbett
Commonwealth Confidential: Auditor General-elect announces transition team heavy with Rendell folks
Heard in the Hall: More about the provisional ballots
PhillyClout: Butkovitz to face at least three challengers in 2013 Democratic primary
PhillyClout: Report provides some answers to election day ballot issues
KYW Newsradio: Bruce Castor considers primary challenge to Corbett
KYW Newsradio: Nearly 20,000 eligible "provisional" ballots ballots cast in November, report finds
KYW Newsradio: House Democrats concerned over Corbett's plan for Pa lottery
KYW Newsradio: Three key priorities for Pa legislative Democrats for new session
SEPA
phillyburbs.com: Montco's Castor exploring 2014 bid for governor
Delco Daily Times: HUD gives $500K for voucher reform
Pittsburgh
Tribune Review: Former Pittsburgh mayor opposes Strip District redevelopment
Early Returns: Allegheny Dems to nominate for House 42nd
Early Returns: Lawmaker collecting funds for colleague behind bars
Early Returns: DePasquale names transition team
NEPA
Times Leader: Rep. Barletta closing Plains, Taylor offices
Times Leader: Payless paydays loom in W-B
Times Leader: Energy savings not guaranteed
Times Leader: City approves $5M bond for efficiency upgrades
Times Leader: Discipline handed down
Times Leader: Mayor defends tax hike
AP: 7 cities split $25M in education funds from Gates
AP: Pa. gov working to avoid more deeping spending cuts
Times-Tribune: Lackawanna County Commissioners target arts funding
Times-Tribune: Scranton moving in on $21M loan
Times-Tribune: Scranton's commuter tax hearing pushed back one day
Times-Tribune: United Way head seeks outside welfare law review
Times-Tribune: Senator Casey asks FEMA to release aid trailers
Times-Tribune: Old Forge's tentative budget shows no tax increase
Times-Tribune: No tax increase in Olyphant for 2013
Citizens Voice: Leighton, councilman clash over funding
Citizens Voice: Hazleton mayor warns of city's 'fiscal cliff'
Citizens Voice: County's interim election director made permanent
News Item: Shoch stalls budget vote in Northumberland County; special meeting called
News Item: On DCED, Bridy told: 'What goes around, comes around'
News Item: Northumberland County due $80,197 in Marcellus money
News Item: AOAA issues raised at Northumberland County commissioners meeting
News Item: County jobless rate increases slightly
Standard Speaker: Toomey offers fiscal cliff plan
Standard Speaker: CBA approves $1.26M budget
Standard Speaker: Tamaqua stays with current tax, sewer and water rates
South Central
The Sentinel: Pair of Cumberland County commissioners propose sales tax increase
The Sentinel: Cumberland County commissioners search for savings in 2013 budget
The Patriot-News: PA STate budget at mid-year: Calm before the storm
The Patriot-News: Regional bus service consolidation study shows $25 million potential savings, Dauphin County commissioners told
York Daily Record: Franklintown passes budget, 10 percent tax increase to be voted on next week
York Daily Record: Kearny has told GOP he wants a second, and final, term
York Daily Record: York County commissioners approve tax incentive for Johnson Controls
York Dispatch: Latest phone scam claims to be from feds
York Dispatch: Proposed budget includes raises for York city workers
York Dispatch: Casey seeks deer farmers' help with chronic wasting disease
Lancaster Intelligencer/Era: Obama's re-election sparks gun sales here and across nation
Lebanon Daily News: Lebanon Mayor Sherry Capello to be honored by Lebanon Valley Chamber of Commerce
Lebanon Daily News: With contention, North Cornwall budget passes
Lebanon Daily News: 5 entitlement program overhauls in play during fiscal cliff negotiations
Roxbury News: Harrisburg City Council Nominees: The Six People Up For Vote
Lehigh Valley
Morning Call: Senators' wives promote Flight 93 Memorial
Morning Call: Allentown approved 2013 budget, but will likely reopen
Reading Eagle: Governor seen as key to crime summit
North by Northwest
Williamsport Sun Gazette: Commissioners to consider picking up recyclables in Selinsgrove
Williamsport Sun Gazette: DuBois maintains the same tax rate
Williamsport Sun Gazette: Muncy passes balanced budget
Williamsport Sun Gazette: City district re-elects officers, discusses construction projects
Opinions
Observer-Reporter: Santorum finds a new job
Altoona Mirror: Highlight lawmaker's criminal records
Times-Tribune: Commuter tax for thee, not for me
Times-Tribune: Pay women in war zones
Citizens Voice: Open-mindedness is needed in W-B
News Item: Follow Corbett's cue: Lower pension rates
Standard Speaker: Hazleton and its neighbors must join forces
The Sentinel: Our View: Defending CRMC's Gateway move decision
The Patriot-News: Editorial: Corbett to the rescue? Not on pension reform
The Patriot-News: Op-Ed: Privatize Pennsylvania's lottery to get more money for seniors
The Patriot-News: Op-Ed: Is America at its tipping point?
The Patriot-News: Op-Ed: Eliminating the charitable tax deduction would be foolish
York Daily Record: Our take: Renters do pay property taxes
York Dispatch: Editorial: New class of Pennsylvania lawmakers should tackle pension cuts
Blogs
Keystone Politics: Destroy Andrew Cuomo
Keystone Politics: Raising the Medicare age makes healthcare more expensive
Keystone Politics: Bruce Castor's Green Lantern theory of politics
Keystone Politics: Rothfus Q&A with Johnstown Chamber of Commerce
Keystone Politics: Bike lanes are good for business
PA Budget and Policy Center: Midyear budget briefing: unaffordable tax cuts drive state funding gap
2 Political Junkies: PodCamp 7 News!
The Pennsylvania Progressive: Sen. Toomey hates disabled people
The Pennsylvania Progressive: Toomey gets it wrong, again
The Pennsylvania Progressive: Reaction to Rep. Fleck's coming out positive
John Hanger: National electricity prices are down slightly, defying claims that renewable energy boom would spike power prices
Lehigh Valley Ramblings: Northampton County loses another starter
Lehigh Valley Ramblings; AVL: Making do with less in Bethlehem
Lehigh Valley Ramblings: Steve Barron, controller or union organizer?
Lehigh Valley Ramblings: Molovinsky, Morganelli & TR on gun violence
Lehigh Valley Ramblings: Dent naturalizations bill passes U.S. House