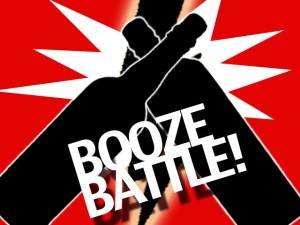 The liquor battle has hit the airwaves in Bucks County. Good morning politicos, here's the Buzz.
CAP Slams McIlhinney Over Booze in New TV Ad (With Video): The fight over state liquor stores is now on the air. The conservative group Citizens Alliance for Pennsylvania Wednesday launched an ad that aims to pressure state Sen. Chuck McIlhinney into supporting privatization.
Arkoosh Names Campaign Team (Mostly): Congressional hopeful Valerie Arkoosh has selected some of the political pros who will assist her effort to succeed Rep. Allyson Schwartz.
Former Pa. Congressman and Common Cause Prez Edgar Dies at 69: Former Congressman Bob Edgar, who served the 7th district for six terms and later went on to lead one of the nation's top government reform organizations, has died. He was 69.
Statewide
State House Sound Bites: IFO: Medicaid expansion would net billions, but unknowns remain
State House Sound Bites: Lawmakers urge against drilling in state forest
State House Sound Bites: Corbett administration to comply with Right-to-Know ruling
Capitolwire DPW, Senate democrats agree that CHIP kids need to stay in CHIP
Capitolwire: Wolf adds top Dem insider, but her partner is backing McGinty
Capitolwire: House finance panel approves Corbett's business tax cut proposal
Philadelphia
PhillyClout: DC33 returns to Council chambers – without the whistles
PhillyClout: Harrisburg Dems stump for Medicaid expansion in Philly
Inquirer: 'Political spitting match' after firing in Montco
Inquirer: At hearing, SEPTA says what it can't do
Philly.com: Downingtown judge allegedly covered up son's citation
Heard in the Hall: Independent agency sees savings in Medicaid expansion
SEPA
AP: Pa. House passes abortion limits under health law
AP: Pa. House debates abortion coverage in health law
AP: Pa. Legislature's analysts see benefit in Medicaid
AP: Sestak raises $46 for still-undefined campaign
AP: Gun rights backers vow at rally to keep up fight
AP: Court sides with AP over access to gov's calendar
AP: Suburbs now playing a key role in gun legislation
AP: Big Bugs Sestak donors tell why they're in his corner
Delco Daily Times: Sestak raising funds, but mum on run for office
Bucks Local News: State Rep. Steve Santarsiero call for vote on bipartisan bill to require universal background checks for firearms in Pa.
Pittsburgh
AP: State Could Gain Millions From Medicaid Expansion
KDKA: State Senators Propose $100 Surcharge On Moving Violations
WTAE: Underdog mayoral candidate brings 'million-dollar heart' to campaign
WTAE: Gun rights backers vow at rally to keep up fight
WTAE: Quakers protest PNC mountaintop removal financing
WPXI: Gun giveaway prompts Facebook to pull McKeesport gun dealer's page
Post-Gazette: Protest shuts down PNC shareholder meeting
Post-Gazette: Lawmakers to hold hearing Monday on Community Blue insurance
Post-Gazette: Increased operations, federal tax credit boost profit at II-IV
Post-Gazette: Monroeville warns of possible release of personal information
Tribune Review: Court's ruling that Corbett's calendar should be released puts Ravenstahl schedule under scrutiny
Tribune Review: Hecklers interrupt PNC annual meeting
Tribune Review: Mayoral forum in Homewood postponed
Tribune Review: GOP seeks control of Greensburg City Council
Tribune Review: Enthusiasts cheer Pa. bill to make federal gun ban unenforceable
Southwest
AP: Sestak raises $460K for still-undefined campaign
AP: Robert Edgar, former Pa. congressman, dies at 69
AP: Quakers protest PNC mountaintop removal financing
Beaver County Times: Local environmentalists protest DEP in honor of Earth Day
Beaver County Times: Rothfus gets committee seat
Observer-Reporter: Washington teachers accept 1-year wage freeze
Johnstown Tribune-Democrat: Pa. teachers may take big pension hit
NEPA
Citizens Voice: Flora wants to keep county job
Citizens Voice: Wilkes-Barre announces staff changes
Citizens Voice: Wilkes-Barre Area boots Corcoran off board
Citizens Voice: Freeze lifted at Keystone Job Corps
Times-Tribune: Timing of Scranton traffic signals a work in progress
Times-Tribune: Scranton moves money from Little League, football to fix bridge
News Item: New 'thin mix' tried as an alternative to 'tar-and-chip' rehab
Standard Speaker: Rite Aid in Shenandoah adds 'road to wellness' in renovation
Pocono Record: Justice Dept. says Armstrong was 'unjustly enriched'
Lehigh Valley
Morning Call: State fiscal office: Medicaid expansion would generate $435 million for Pennsylvania
Morning Call: Sequestration hits Southern Lehigh's Arabic language class
Reading Eagle: Berks GOP treasurer candidates outline plans
Reading Eagle: Judge candidates share ideas, backgrounds with Chamber
WFMZ: Pohatcong mayor wants end to trash dumping in township
South Central
Intelligencer/Era: Lancaster city hopes to build greenway along abandoned rail line; some property owners oppose it
Intelligencer/Era: Judge rules county hoteliers don't have to release tax information
The Sentinel: Harrisburg International Airport not yet affected by sequestration
Patriot-News: Carlisle school officials scramble to cover expansion, renovation costs at middle schools
Patriot-News: Mechanicsburg Area School Board hears proposals for new courses and textbooks for 2013-14 year
PennLive: Members disagree over Palmyra Borough Council's conservative leanings
York Daily Record: Red Lion transgender student wants to be prom king, not queen
Lebanon Daily News: Senate board convenes at Lebanon High School
North by Northwest
Erie Times-News Campaign '13 Blog: Low bid for final runway construction is $9.4 M
Centre Daily Times: Philips Hotel owner says property remains viable, seeks support from council
Centre Daily Times: Bill moves to cover universities with Pa. records law
Williamsport Sun Gazette: Accountability demanded by protesters
Williamsport Sun Gazette: Commissioner talks reassessment at Rotary meeting
Williamsport Sun Gazette: Haulers mixed on the new program
Opinions
Bucks Intelligencer: 2014 Campaign a Repeat of 2012?
Post-Gazette: South Side deal: Plans for better patrols are on track for the summer
Observer-Reporter: Transportation measure would benefit us all
Delco Daily Times: Spirit of America shaken, never broken
Daily Local News: We elect them, but most U.S. senators don't work for us
Reading Eagle: Equal opportunities lessen welfare and the tax burden
The Sentinel: Let legislature handle tax exemptions
Blogs
Jon Geeting: Next Northampton County Exec. Must Lead on Shared Services
Keystone Politics: Allyson Schwartz is Only PA Democrat to Sell Us out on CISPA
Keystone Politics: Green Party of Pennsylvania Stages Earth Day Protests Around the State
Keystone Politics: PA House Moving Governor's Costly Corporate Tax Cut Plan
Keystone Politics: County Executives must Lead on Shared Services