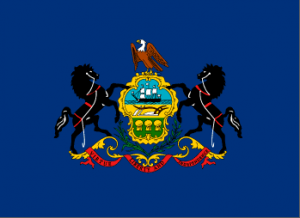 Dent joins CNN as a contributor, 18% of voters came out in last week's election, and Perez says Pennsylvania is central to Democrats taking back the House.  Good morning politicos, here's the Playbook!
Dent Joins CNN: Former Congressman Charlie Dent is joining CNN as a contributor.
Sub-20% Voter Turnout in Primary Election: In last week's primary election, just 18% of Pennsylvania registered voters came out to the polls.
Perez Calls Pennsylvania 'Ground Zero' in Push to Win House: Democratic National Committee Chairman Tom Perez sees Pennsylvania as being "ground zero" in Democrats push to win 23 seats needed to gain the majority in the U.S. House.
Statewide
State House Sound Bites: State lawmakers inch toward toughening gun laws
State House Sound Bites: Top GOP state senator pushes for redistricting, election overhauls
StateImpact: Spring birdsong could change with a changing climate
Capitolwire: The PA Senate floor action recap for Monday, May 21, 2018.
Capitolwire: At PA Press Club, Scarnati talks about school safety funding, the budget, legislative redistricting and other election-related issues.
Philadelphia
Inquirer: Gov. Wolf sues bankers, lawyers, engineers, adviser for bond losses
Inquirer: Legislative leaders express support for opening Pa.'s primaries
Inquirer: Inside the Philly courtroom where you're not allowed to speak
Inquirer: Trump and Kenney administrations say 'no' to compromise in 'sanctuary city' suit
Philly Tribune: Former Gates Foundation director to lead higher education system
Philly Tribune: Keystone First employee sworn in as member of advisory commission
WHYY: Pa. suing firms, professionals involved in Harrisburg incinerator fiasco
WHYY: Philly officials: DHS proposal would penalize legal immigrants for their kids' public assistance
WHYY: US and Philadelphia reject 'sanctuary city' compromise
Philly Mag: Construction for Protected Bike Lane Trial Begins in Center City
KYW: Philadelphia, DOJ reject judge's plea for 'sanctuary city' consensus
KYW: Mayor Kenney's rebuild program finally passes City Council committee
SEPA
Pottstown Mercury: Daniel Boone School Board OKs budget with tax hike
Bucks County Courier Times: Pa. Rep. Kathy Watson says suit threatens marijuana research
Bucks County Courier Times: Lower Makefield hires township manager from Newtown Township
Bucks County Courier Times: Congressmen join bipartisan call for EPA to release chemical study
Delco Times: Open house, open opinions on Don Guanella site proposal
Pittsburgh
Tribune Review: Climate change activists seek congressional action
Tribune Review: Gates Foundation leader tapped as chancellor of Pennsylvania state system universities
Tribune Review: Highlands hikes taxes, lays off 26, reconfigures schools
Tribune Review: Another elections forecaster rates Rothfus-Lamb matchup a 'toss-up'
Tribune Review: Panel disagrees with proposed Pittsburgh City Council changes to PWSA agreement
Post-Gazette: Sen. Bob Casey rolls out a coal miner ad as fight with Barletta ramps up
Post-Gazette: Scarnati to introduce open primary bill, allowing all voters to participate
Post-Gazette: Trump nominates Christine Toretti to serve as ambassador to Malta
Post-Gazette: Fraudulent online comments attributed to them constitute identity theft, senators say
WESA: Not All GOP Candidates Want Trump To Stump
KDKA: Some PA Lawmakers Want To Open Primaries To Independent Voters
Southwest
Beaver County Times: Toomey, Democratic colleague press FCC chairman on fake comments
Beaver County Times: Gas prices continue to climb
WJAC: Gov. Wolf urges lawmakers to pass gun safety measures
WJAC: Gates Foundation director to lead Pennsylvania universities
Altoona Mirror: GOP chairwoman may try to keep post
NEPA
Times Leader: Cities want in on Luzerne County blighted property database
Times Leader: Report: Sue Henry out at WILK
Times-Tribune: Scranton council introduces residency waiver for mayor's pick for business administrator
South Central
WITF: Gates Foundation director to lead Pa. state system of universities
Patriot News: Wolf administration, City of Harrisburg launch suit over incinerator debt crisis
Patriot News: State, Harrisburg seek big payback from professionals in incinerator lawsuit
Patriot News: Vote on proposed Harrisburg school budget with tax hikes, staff cuts, postponed
Patriot News: Arrests at Poor People's Campaign rally inside Pa. Capitol
Patriot News: One-vote lead for one candidate turns into one-vote lead for the other in tight GOP race
Patriot News: New chancellor for Pa.'s 14 state universities stresses better-equipped students, not closing campuses
WHTM: Lawsuit seeks to recoup costs of failed Harrisburg incinerator
LNP: UGI's residential price to drop 12.1% by year end
Lehigh Valley
Morning Call: Here's Charlie Dent's next gig
Morning Call: Move over tea party: 'Progressive' Democrats also a force in ousting moderate incumbents
Reading Eagle: Some lawmakers want to open primaries to independent voters
North by Northwest
Erie Times-News: Committee to vote on school-choice bill
Erie Times-News: 'Building capacity' in struggling Erie neighborhoods
Centre Daily Times: What these local moms are doing to tighten 'loopholes in our laws' regarding guns
Opinion
Ellwood City Ledger: Our view: Kelly misses the mark on racial divide
Inquirer: Council president should let his colleagues decide on collecting unpaid property taxes | Editorial
Inquirer: Soda tax may not be the only school-funding loss if new Pa. House Bill passes | Opinion
Delco Times: Editorial: It's time for common sense talk on gun rights
Tribune Review: A sensible project
Post-Gazette: Do the job or depart: Mick Mulvaney should resign from the CFPB
Patriot News: Newly published Wolf admin medical marijuana rules keep public needlessly in the dark | Editorial
Patriot News: Cleaner air takes all of us working together | Opinion
Patriot News: Pa. kids need CHIP to grow up healthy | Opinion
LNP: Maybe love ought to govern our decisions about gun regulation and school safety (imagine that)
Reading Eagle: Editorial: Trump shows weak hand in bid to lower drug prices