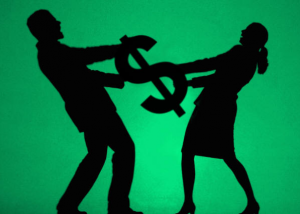 Fundraising numbers shed some light on PA races, and more. Good morning politicos, here's the Buzz.
Redistricting Aftermath: Potential Member Vs. Member Battles: Now that the Pa. Supreme Court has cemented the new state House and Senate maps, lawmakers must look to 2014 – and in some cases at each other. Here are the potential races between incumbent legislators.
5/10 Ups & Downs: It was a rough week for Harrisburg, and many of the politicians who work there.
McVay Goes 2 for 2 on Newspaper Endorsements for Superior Court: Pittsburgh Judge Jack McVay has the support both of the Philadelphia Inquirer and the Pittsburgh Post-Gazette in his run for Pa. Superior Court. One of them compared him to a Primanti Bros. sandwich.
Wagner Leads Pittsburgh Money Race, Peduto Close Behind: The fundraising reports are in. Former Auditor General Jack Wagner has raised $1.24 million so far in his race for Pittsburgh Mayor, with City Councilman Bill Peduto at $1.01 million.
Trib Backs Wagner for Mayor: Wagner is 2 for 2 on newspaper endorsements in Pittsburgh. The Tribune-Review wrote, "He's an honest broker. And he's one of the most decent men we know. Jack Wagner is the adult in this race. And an adult leader is what Pittsburgh so sorely needs right now."
Statewide
StateImpactPA: Brazilians Pay Visit to PA for Gas Drilling Advice
StateImpactPA: Scientists Fear Losing Ground on Climate Change as Carbon Dioxide Levels Rise
PA Independent: Pennsylvania courts tout savings as state proposes dip in funding
PA Independent: Better transparency, clearer rules would help PA redistricting process in 2021
PA Independent: PA Week in Review: Budget-making in a broke city
PA Independent: WATCHBLOG: No additional challenges to state redistricting map from Holt
State House Sound Bites: Chances of passing pension overhaul with budget looking low
State House Sound Bites: Lawmakers say time nearly up for mulling Medicaid expansion
Philadelphia
Inquirer: Pa. budget woes will test GOP on business tax cut
Inquirer: Pro and anti-gun groups rally in Morrisville
Inquirer: Rendell, Goode Sr. start legal fund for Fattah's son
Inquirer: Animal cruelty laws stir free speech debate
WHYY Newsworks: Pa. lawmakers hesitate on Corbett's crowded legislative agenda
WHYY Newsworks: Philly councilman pushes to remove $250 million from Wells Fargo bank
WHYY Newsworks: Pa. running out of time to decide on Medicaid expansion
Commonwealth Confidential: Memorial service set for Gov. Leader set for May 16
Philadelphia Magazine: New Report: Here's how much tourism impacted Philly last year
SEPA
Phillyburbs: As Bucks County trial begins in DeGennaro slaying, "Levittown vows justice"
Phillyburbs: Police officers risked lives to save another
Delco Daily Times: Rain can't dampen mood as thousands turn out to dedicate Delco Veterans Memorial
Pottstown Mercury: Phoenixville Area School Board proposed final budget carries 1.88 percent increase
Pottstown Mercury: $2.3M restoration of Frick's Lock Village unveiled
Montgomery Media: Six candidates vie for four open seats on Methacton School Board
Montgomery Media: ELECTION 2013: Three Republicans to compete for two seats in Souderton's Ward 3
Pittsburgh
CBS Pittsburgh: Mayor Speaks About Grand Jury Investigation
CBS Pittsburgh: Mayoral Candidates Address Police Chief Search, Plowing, Gun Violence at Debate
Post-Gazette: Two seek Democrats' nod for Pennsylvania Superior Court
Post-Gazette: Why are Pennsylvania women hard to find in politics?
Post-Gazette: Protesters deliver handmade flowers to Corbett's office in Downtown Pittsburgh
Post-Gazette: Three seek to capture Pennsylvania house seat Smith left for Senate
Post-Gazette: 13 vying for 4 sports on Allegheny County Common Pleas Court
Post-Gazette: Federal investigation of Pittsburgh police reaches Ravenstahl's office
Post-Gazette: Ravenstahl PAC gives $10,000 to Wheatley
Post-Gazette: Primary 2013: Pittsburgh's mayor race based more on personality
Post-Gazette: Pittsburgh mayoral candidates reaching out to core voters
Early Returns: Ravenstahl backs Wheatley
Early Returns: Wagner raises $1.2 million
Early Returns: Wheatley: Raised $62K
Early Returns: Peduto reports $946K
Early Returns: Ravenstahl's anti-Peduto sport cont.
Tribune-Review: As judge, Tranquilli wants to intervene early
Tribune-Review: Satler says trial experience makes her case for judicial post
Tribune-Review: Cooper says years in court give perspective for Common Pleas judge seat
Tribune-Review: Solid relationships overriding theme of Wagner campaign
Southwest
Altoona Mirror: Commissioners move into fourth-floor offices
Altoona Mirror: Zoning board nixes townhouses
Altoona Mirror: Cambria County plans to drop Wi-Fi service
Johnstown Tribune-Democrat: Quecreek stirs safety changes
Johnstown Tribune-Democrat: Officials: Money is there to finish Route 219
South Central
York Dispatch: Vance bill would stop state's triple-dippers
Lancaster Intelligencer – Elizabethtown uses surplus, savings to balance budget
Lancaster Intelligencer: Manheim Township district plan: Boost taxes, add officer to campus
Lebanon Daily News: ELECTION: Township races heat up in Lebanon County
Lebanon Daily News: South Annville takes step toward regional comp plan
Roxbury News: Campaign Finance Reports: Eric Papenfuse
Roxbury News: Mayor Linda D. Thompson: Campaign Finance Report
Roxbury News: Campaign Finance Reports: Harrisburg City Council Candidates
Roxbury News: Campaign Finance Reports: Dan Miller
Today's The Day Harrisburg: City of Harrisburg's Annual HUD Process
Carlisle Sentinel: AG Kane finds no wrongdoing by Hershey Trust officials
Carlisle Sentinel: Carlisle candidates address residents' concerns
Carlisle Sentinel: Liquor store union ad campaign raises questions in Harrisburg
Carlisle Sentinel: Pa. budget woes will test GOP on business tax cut
Patriot News: Harrisburg securities fraud and the mayoral election: an analysis
Patriot News: Linda Thompson's jobs and business numbers: a fact check
Patriot News: Dauphin County prosecutor talks strategy in Harrisburg debt case
York Daily Record: Liquor referendums: Dillsburg and Dallastown voters to decide whether to stay dry or go wet
York Daily Record: Bryan Tate raises about $43,900 in 95th state House campaign
York Daily Record: Michael Flannelly outraises Todd Platts in York County judicial race
York Daily Record: Campaign finances: Mayor Kim Bracey brings four times her challenger
York Daily Record: Candidates for 95th House seat contrast their qualifications, views
York Daily Record: Wagner gives more than $131,000 to Michael Flannelly's judicial campaign
York Daily Record: Tom Kearney outspends challenger in DA race
NEPA
Pocono Record: Challenge heats up Lehman Township tax collector race
Citizens Voice: Controller job now a solely watchdog
Citizens Voice: 11 county council candidates vy for 10 nominations
News Item: Coal firm wins suit over Natalie Mountain property
Standard Speaker: Mayor's former assistant to take over as community development head June 1
Times Tribune: Dunmore banking on $5 million loan to fix pension mess
Times Tribune: Fuse of pension bomb lit in 1992
Times Tribune: Lackawanna County judicial candidate would shake-up family court program
Times Tribune: Thousands raised in magistrate race
AP: 2 openings exist on Fayette County Common Pleas bench; 5 try for jobs
Times Tribune: Each party musters two candidates for race
Times Tribune: Race seen as battle for ballot position
Lehigh Valley
Morning Call: Callahan leading the money race
Morning Call: Allentown School Board calls for changing cyber and charter school funding
Morning Call: Should county tax dollars go toward non-mandated services?
Morning Call: Is Lehigh County going in the right direction?
Morning Call: Budget priorities taking shape in Harrisburg
Morning Call: Lehigh County executive candidates offer Republican voters stark choice
Express Times: Bethlehem mayoral candidates won't enforce SteelStacks speech restrictions
Express Times: Northampton County executive hopefuls debate at community college
Express Times: Bethlehem voters to choose between two Democratic city councilmen for mayor
Reading Eagle: Conservatives offer reactions to IRS targeting
WFMZ: Ordinance to stop waste-to-energy plant coming before Allentown City Council
WFMZ: Allentown releases water, sewer lease bid information
WFMZ: State owned universities told to freeze weapons policies
North by Northwest
Sun-Gazette: City council candidates share public safety ideas
Erie Times-News Campaign '13: Casey urges action on Asian carp
Opinions
Tribune-Review: For Pittsburgh mayor: Make it Jack Wagner
Salena Zito, Real Clear Politics: Obama, Democrats Misfire on Guns
Beaver County Times: Really? Segment of Democrats think Corbett is doing 'excellent' job
Johnstown Tribune-Democrat: Tax fairness or tax favors?
Post-Gazette: Miller for the House: His aims for serving the 42nd District are clear