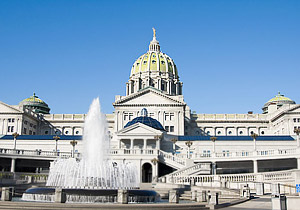 Good morning politicos, here's the buzz. Mike Turzai says Voter ID will help Romney win PA; Sturla plans to host a Hunger Games-themed fundraiser; Boockvar accuses Fitzpatrick of fighting a war on women; and Obama fires back at his attackers for "doing fine" gaffe.
Turzai: Voter ID Law Means Romney Can Win PA: Speaking at the Republican state committee meeting Saturday, House Majority Leader Mike Turzai said that Voter ID will "allow Governor Romney to win" Pennsylvania as he ticked off a list of GOP accomplishments in Harrisburg.
Sturla Advertises Fundraiser With Surprisingly Accurate 'Hunger Games'-Themed Invite: A surprisingly well-informed 'Hunger Games'-themed invitation to State Rep. Mike Sturla's July golf outing and fundraiser arrived in mailboxes today. The pamphlet features copious references to the franchise more in-depth than would be possible for a casual viewer of the film.
Obama Camp Responds to "Doing Fine" Attacks: President Obama's campaign launched an unannounced ad buy in Pennsylvania Monday rebutting super PAC-funded attacks on his comment that the private sector of the economy "is doing fine."
Reader Poll: Will the State Pass its Budget On Time?: With the June 30 deadline looming, and Gov. Corbett having promised state Republicans an on-time budget at their committee meeting over the weekend, the pressure is on for the GOP-controlled legislature to pass a budget for the Governor to sign before the week is up.
Poll Results: Court Will Shoot Down Individual Mandate: With a Supreme Court decision expected by Thursday, our reader poll results are more relevant than ever. With 473 people participating, the consensus is that the court will strike down Obamacare's individual mandate, but not the entire law.
Boockvar Accuses Fitzpatrick of War on Women (Watch Video): In a new web video, Dem challenger Kathy Boockvar calls out Rep. Mike Fitzpatrick over his voting record on women's rights. It comes as Boockvar seeks further recognition from EMILY's List, and as the CREDO super PAC forms a local "Women Against Fitzpatrick" committee.
National
The New York Times: Pennsylvania's Voter ID Law Spurs Debate
Roll Call: Republican Freshman stick together
Politico: Mike Turzai: Voter ID helps GOP win state
AP: Supreme Court rejects most of Arizona immigration law
Statewide
Capitol Ideas: Budget Update: Corbett presses the case for block grants
Capitol Ideas: Rep. Mike Sturla has read "The Hunger Games" and you should be afraid
State House Sound Bites: Rendell to vouch for accused ex-Rep's character, budget deal could mean school reforms pass
State House Sound Bites: Kids in the hall: Democrats debate schools funding with Education Secretary
PA Independent: Daily Budget Roundup
PA Independent: Proposed block grant could leave counties legally vulnerable
PA Independent: Expansion of scholarship program to $200 million on hold in House Education Committee
State Impact: Power up: the week ahead in energy
State Impact: Delaware County refinery workers head back to work
State Impact: DEP Chief Michael Krancer tells environmentalists to redo their math
Philadelphia
ABC Philadelphia: Rendell lauds reputation of charged ex-lawmaker
Philly Tribune: Audit: Pa. overspends on charter schools
Phillynow.com: Nutter, AG Holder To Announce $3.1 Million for Philadelphia Police
Phillynow.com: Rendell is Character Witness in 'Bonusgate' Prosecution
Phillynow.com: Daily Grinder: $1.6 Million Settlement in Contaminated Water Fracking Case
Philly.com: Signs of in the Philadelphia GOP
Philly.com: Does Corbett know that ReNew program for ex-cons pays for itself?
Philly.com: Gov. Corbett's low poll numbers are not unprecedented and may not be a bad sign
SEPA
Pottstown Mercury: State corporate campaign spending limits rejected
AP: Tax credit touted as aid for Pa.'s failing schools
Phillyburbs.com: Pa. Senate sends governor correction reform bill
Pittsburgh
Tribune Review: Liquor privatization goes back on the shelf
Tribune Review: Quick action expected on state budget, tax credit
Post-Gazette: Allegheny County, Pittsburgh officials push to re-evaluate nonprofit tax exemptions
Post-Gazette: U.S. Supreme Court bars mandatory sentences for juveniles of life without parole
Post-Gazette: Pennsylvania given mixed grades in higher education
Early Returns: Turzai: Voter ID to win Pa for Romney
Early Returns: Obama ad hits back on "doing fine"
Early Returns: Monday heds: Health care day?
KDKA Pittsburgh: Rendell: Gov. Corbett is not a wuss
Southwest
AP: Sponsor says tax credit would aid failing schools
AP: Pa. to end program that 'saved my life' man says
Observer-Reporter: Pa. Supreme Court denies intervention in Act 13 battle
Observer-Reporter: DEP denies lawmaker's Right to Know request
Altoona Mirror: Legal services for low-income families facing cuts
NEPA
Times-Leader: Rep. Barletta's reaction to Supreme Court decision
Times-Leader: Pa. to end program that 'saved my life,' man says
Times-Leader: Corbett: Distribution facility to move from N.J. to Monroe County
Times Leader: Delta closes on deal for Philly-area refinery
Pocono Record: MIQ Logistics gets grants for leasing former Roadway facility
Pocono Record: Corbett wants teacher evaluations to include student scores
Wayne Independent: Phila. judicial woes lead to resumption of PA grand jury indictment
Daily Item: GHP is not required to send out rebates
Citizens Voice: Pashinski debates school aid with education secretary
Citizens Voice: Royalty tax withholding proposal gets low marks from gas leaseholders' group
Times-Tribune: Royalty tax withholding proposal gets low marks from gas leaseholders' group
Times-Tribune: Pashinski debates school aid with Ed secretary
South Central
York Dispatch: Jury deliberations in Stetler trial set for Tuesday
AP: Gov. Corbett defends slow pace of Sandusky investigation
Harrisburg Patriot News: Harrisburg kindergarten academy gets into state tax program, improving hopes of saving kindergarten
Harrisburg Patriot News: Pa. lawmakers expected to extend bankruptcy moratorium on Harrisburg, other third-class cities
Harrisburg Patriot News: Ex-Gov. Ed Rendell is character witness in Bonusgate trial
Harrisburg Patriot News: Schools' financial squeeze gives rise to questions about future of early education in state
Lehigh Valley
AP: Pa. to end cash assistance program
South WhiteHall Patch: Parkland Hires New Teachers, Others
The Morning Call: Souderton Area raising school taxes 3 percent, furloughing teachers
WFMZ: Jeff White, ex-Reading managing director, nabbed in online predator sting
WFMZ: Education tax credit to expand in new Pa. $27.7B budget
WFMZ: Plan in works may help Allentown arena project move forward
North by Northwest
Sharon Herald: Fracking Foes pray and protest
Centre Daily Times: Studying the Marcellus Shale: Researchers develop collaborative tool for water quality data
Opinion
Post-Gazette Editorial: Reasonable extension? Abortion clinics given six months more to comply
Observer-Reporter Editorial: Win-win situation becomes a loser
The Washington Post: Balance needed between scientific research and security
Politico: Supreme Court's Legitimacy at stake on Affordable Care Act
Politico: Health care policy libertarians go for
Washington Post: A presidential campaign with no drama
The Hill: Opinion: Some Dems turning on Obama
Times-News: Our view: Remapping hurts Erie County's clout
Lewistown Sentinel: Obamacare battle far from over
Blogs
Keystone Progress: Romney's Bad Week
Keystone Progress: The Human Cost of Corruption In the U.S Senate: Cutting Food Stamps While Giving the Sugar Lobby Billions
Keystone Conservative: New PA Poll: Obama 48% Romney 43%
Keystone Conservative: PA GOP: Pennsylvania is a Turning Point
John Hanger: 2012 PA Gas Drilling Down 14% to 21% & Back To 2010 Levels
John Hanger: Why Gasoline Is On The Way To $2.70 Or Lower By November
Pennsylvania Progressive: Turzai Says Voter ID Meant to Win State For Romney
Pennsylvania Progressive: Obama Initiative Will Put Cops on Pennsylvania Streets
Pennsylvania Progressive: News and Notes
Above Average Jane: Pa TIGER Projects
Keystone Liberty: Coalition Seeks Tax Break for Big Oil in Budget
PA Budget and Policy Center: Individuals, Not Corporations, Pick Up the Tax Tab for EITC Scholarships
Lehigh Valley Ramblings: Why State Campaign Finance Reports Should Be Filed Electronically
NEPArtisan: Pat Toomey Hates You Healthy Unless You Vote For Him
2 Political Junkies: The Land of Mitt-Believe