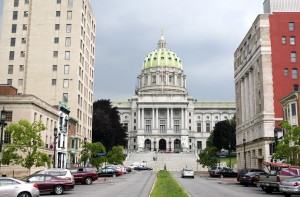 Good morning, politicos. Here's the buzz.
Everyone's still talking about Paul Ryan, and the Dems launched their first attacks against him yesterday. And ICYMI, check out our guest column about the upcoming party conventions and presidential debates.
PA Dems Take First Shot at Ryan: Following Romney's much anticipated VP pick, PA Dems fired their first attack against Wisconsin Rep. Paul Ryan during a press call Monday, criticizing the impact of the Romney-Ryan budget proposal on Pennsylvania.
Romney Ad: Obama Opposes Welfare-to-Work (Watch Video): Mitt Romney's campaign released a new ad today attacking an announcement made last month by President Obama waiving certain "welfare-to-work" requirements enacted under the welfare reform law of 1996. The ad says Obama has for years been against the requirement.
Restore Our Future: Obama Policies Have Failed (Watch Video): Conservative super PAC Restore Our Future released a new ad today attacking President Obama's record of "failed policies." The ad, titled "Another Month," is airing in 11 states including Pennsylvania. The buy is said to be worth $10.48 million.
Politically Uncorrected: Conventions Won't Matter: The endless campaign known as the 2012 presidential election isn't quite ending yet, but it is the beginning of the end. The party conventions are almost upon us, as are the fall debates. But guest commentary by Madonna and Young suggests that only one of the two may sway the vote.
Maybe "Radical Kathy" Isn't?: Last week the NRCC announced the launch of their "Radical Kathy" Boockvar Tumblr page, painting Boockvar as a radical leftist lawyer. But on Friday, an article on the Philadelphia Inquirer's Big Tent blog threw a wrench into some of the website's claims.
Romney Chooses Ryan; PA Politicos React: "Bold" is the word on the tip of everyone's tongues and the term du jour for Romney's VP selection in Wisconsin Rep. Paul Ryan. See what politicos across the state are saying about the selection.
Paul Ryan's PA Tie: Jim Gerlach: The weekend announcement by Mitt Romney adding Wisconsin Rep. Paul Ryan to his ticket has all the focus on the Midwest. But Ryan is tied to the region by his close friend and fellow Rep. Jim Gerlach.
Legislative Election Updates
SD-3: State Sen. Shirley Kitchen (D-Phila) along with the AARP, Philadelphia Voter Registration Office, ACLU, Public Interest Law Center of Philadelphia, NAACP and others plan to host a news conference Friday at 10 a.m. concerning Voter ID at her office. A press release said the conference is to be a chance to inform voters about the changes the law makes to voting and is a means of informing her constituents. She is running unopposed.
SD-37: The PA AFL-CIO has announced their endorsement for state Rep. Matt Smith (D-Allegheny) for the Senate race, citing his decision to stand with the organization when facing attacks from Republicans. They said he fights for good jobs, decent wages and benefits, educational opportunities for our children and defending the right to vote. PA President Rick Bloomingdale said, "We will educate and mobilize our members and their families so that they know that Matt Smith has stood and fought for them in some very tough and significant battles in Harrisburg."
National
Roll Call: NRCC's Early Ads Target John Barrow, Ben Chandler, Mike McIntyre, Mark Critz
Roll Call: Obama Camp Still on Defense Regarding Priorities USA Ad
AP: Romney won't volunteer budget differences
New York Times: Medicare Rises as Prime Election Issue
Five Thirty Eight: What Are Paul Ryan's Chances of Becoming President?
Slate: Romney Will Have To Defend Ryan's Fringe Positions
Slate: Who's Slashing Medicare?
Slate: It's the Budget, Not the Economy, Stupid.
USA Today: Ryan scores lowest poll numbers since Quayle
USA Today: Poll puts Obama and Romney in dead heat
Wall Street Journal: Biden Tries to Tie GOP Ticket to Congress
Wall Street Journal: Policy Hand Has Carved Out Prominent Role
Wall Street Journal: Obama Administration Takes Step to Help U.S. Farmers
Wall Street Journal: House Panel Sues for Release of Gun Documents
Prob Publica: Two dark money groups outspend all super PACS combined
National Journal: Biden: Ryan Adds Definition to Romney's 'Vague Commitments'
National Journal: Romney, Finding His Inner Christie
Washington Post: Ryan steps lightly into national spotlight
Washington Post: How Paul Ryan impacts the electoral map. Or doesn't.
The Hill: GOP concerned Ryan could cost party House and Senate seats
The Hill: Debt clocks disagree over red ink
The Hill: Poll: Americans not enthusiastic about Paul Ryan as vice-presidential pick
Statewide
State Impact PA: Drill Bits: A New Solar Farm, And "White Collar" Marcellus Jobs
State Impact PA: How Will Corbett's Executive Order Change The Marcellus Permitting Process?
State Impact PA: "A Business Decision": Why The Fish And Boat Commission Leased Land To Drillers
State Impact PA: Cleaning Up — Or Not Cleaning Up — Polluted Rivers
Capitol Ideas: Monday Morning Coffee: When it comes to Voter ID, voters are polls apart
Capitol Ideas: State launches social media effort on Voter ID
PA Independent: Family farms get relief with end to death tax
PA Independent: Romney's VP puts emphasis on older voters, but likely doesn't increase PA's importance
State House Sound Bites: Links: IMing to avoid RTK, DeWeese off ballot
State House Sound Bites: State scales down transportation plans by $10B
State House Sound Bites: Corbett defends voter ID as ruling on injunction expected this week
Philadelphia
Daily News: Clergy rally in Philly against voter ID law
Daily News: State ramps up voter ID outreach
Daily News: More state 'transparency'
Inquirer: Polls find support for voter ID but little awareness
Inquirer: Voter-ID case puts spotlight on Pa. judge
PhillyClout: Monday-Clergy rallies against voter ID law
Philadelphia Tribune: Fed's fund boost Pa. mortgage assistance
Philadelphia Tribune: Ruling likely this week on ID law
Philadelphia Tribune: State Rep. linked to fraud case
KYW Newsradio: Need an ID to vote? There's an app for that
WHYY Newsworks: Jim Foster's longshot campaign against U.S. Rep. Chaka Fattah survives tumultuous start
WHYY Newsworks: Awaiting voter ID ruling, Corbett insists law poses no hardship
WHYY Newsworks: Crooked politicians getting help with their legal bills-from you
SEPA
AP: Foes: Pa. state permit order threatens environment
The Intelligencer: How will Ryan play in the 8th?
Delco Daily Times: Lawmakers, pundits offer views on GOP veep choice
Bucks Daily News: Congressman Mike Fitzpatrick proposes legislation to benefit "Children of Fallen Heroes"
Pittsburgh
Post-Gazette:Program designed to expand artwork through Pittsburgh
Post-Gazette:Army Corps of Engineers to stay in charge of Armstrong County nuclear clean-up
Early Returns: New Romney SuperPAC ad in Pa
Early Returns: Ryan reax
Tribune-Review:Pittsburgh firefighters sue for overtime pay
Tribune-Review: Pa. not ready to cut cord on call boxes
KDKA: Why Is PennDot Removing Squirrel Hill Tunnel's False Ceiling?
Southwest
Altoona Mirror: TASD starts alternative ed program
Lehigh Valley
South Whitehall Patch: Alternative Ballots: Voter ID Loophole For Seniors, Disabled?
Pennsylvania Ave: Pennsylvania Democrats hit "Romney-Ryan" plan for Medicare
Reading Eagle: Council awards $218,346 contract for sewer project
WFMZ: Political pundits put Romney's #2 under microscope
NEPA
The Times-Tribune: Luzerne county establishing county process to evaluate county manager performance
South Central
Lebanon Daily News: It's a cakewalk season for Lebanon County's two state reps
Harrisburg Patriot-News: Hungry for a cheesesteak? PennDOT will tell you where to go, with a taxpayer-funded guide
Harrisburg Patriot-News: Analysis: Ex-presidents are more popular as time goes by
Harrisburg Patriot-News: Thumbs up, thumbs down: How do these past presidents fare?
York Daily Record: Local, national reaction to Romney's choice of Rep. Paul Ryan as running mate
York Daily Record: Paul Ryan cut ties to longtime donor convicted of campaign violations
York Dispatch: Program giving free phones to low-income Yorkers
Opinion
Tribune-Review: A shafting, Obama-style
Observer-Reporter: Editorial: Paderborn, people, power and PennDOT
Philadelphia Inquirer Editorial: DHS has to be a better boss
Philadelphia Inquirer Editorial: TV political ads should educate, not alienate
Pottstown Mercury Op-ed: Rep. Joe Pitts: Defrauding IRS could get even easier
Daily Local Editorial: For state legislature, a mandate study is a good start
Times-News: A choice election; GOP ticket now in place
New York Times: Column: The other running mates (the wives)
Blogs
The Liberty Blog: Sen. Pat Toomey: Philadelphia Magazine Profile – Not all Libs Are…
Keystone State Education Coalition: PPG Follow the money graphic: where those backpacks of money have gone at the state's largest cyber charter…
Commonwealth Foundation: Union Allowed to Stalk in Pennsylvania
Commonwealth Foundation:  ACA a Boon to Special Interests
Lehigh Valley Independent: Americans Don't Know What the Deficit Is
Lehigh Valley Independent: Economic Policy is All About Congress
Lehigh Valley Independent: WFMZ: Commercial Space Around Allentown Arena "Just About Gone"
Lehigh Valley Independent: Where Are City Tax Bases "Eroding" To?
Lehigh Valley Independent: Charlie Dent Goes All-In on Paul Ryan
The Lu Lac Political Letter: 13 Questions
The Pennsylvania Progressive: Pennsylvania Will be the New Florida in Election Turmoil
The Pennsylvania Progressive: Who is Paul Ryan?
Keystone Progress: Romney Pushes So-Called Right To Work… For Less
Keystone Progress: AFL-CIO Research Finds Seniors Much Less Likely to Possess ID Required by New Voter Suppression Law
Keystone Progress: Was Romney's Ryan Pick Bold or Desperate?
Keystone Progress: Things You Should Know About Paul Ryan
Keystone Politics: Where are City Tax Bases "Eroding" To?
Keystone Politics: The Serious Answers in the Serious Debate Over Paul Ryan's Budget
Keystone Politics: Paul Ryan Budget Keeps Obama's Medicare Savings, Gives Them Away As High End Tax Cuts
Keystone Politics: NRCC Admits Obama Policies "Viewed Favorably" in PA-8, Contradiction "Radical Kathy" Attack Site
Keystone Politics: Voter Fraud "Virtually Non-existent"
John Hanger: S&P 500 Up 74% Since January 2009: The Fact That May Re-elect The President
John Hanger: Stunning Fact: Wholesale On Peak Electricity Prices Plummet 24% to 39% – Thank Gas & Renewables