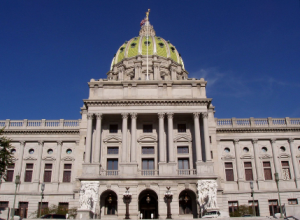 Kathleen Kane talks Guv 2014, Philly Dems want to woo the DNC for 2016, and more. Good morning politicos, here's the Buzz.
Kane Plays Down Guv 2014 Buzz: The Pa. Attorney General denied any 2014 gubernatorial ambitions in remarks to reporters in Pittsburgh on Monday
DNC to Philly in 2016? Rep. Bob Brady is working to bring the next Democratic National Convention back to the city.
McGinty Adds Advisor from Labor: J.J. Johnston, formerly of SEIU Pa., has joined Katie McGinty's gubernatorial campaign as a senior advisor on labor issues, the campaign announced yesterday.
Boehner Headlines Fitzpatrick Fundraiser: The $1,000 per person event was held Monday night.
PoliticsPA Internship Opening: Fall 2013: Interested in getting first-hand journalism experience covering Pennsylvania politics? PoliticsPA is seeking talented individuals to contribute to our news coverage throughout the Commonwealth.
Reader Poll: Kane Would be Sestak's Toughest 2016 Opponent: According to PoliticsPA readers, the Attorney General would be the former congressman and 2010 candidate's most formidable primary challenger.
Statewide
Capitolwire: Speaker Smith to split bills to shrink chambers
Capitolwire: Differing views of PLCB's announcement of 'record' profits
Capitolwire: Education officials discuss changes made to settle Common Core concerns
Capitolwire: IRRC tells Corbett administration to revamp lobbyist fee increase proposal
PA Independent: PA liquor stores see record revenue as privatization debate hangs
PA Independent: WATCHBLOG: More judges behaving badly in PA, this time on ethics
StateImpactPA: Pa. shuts down wastewater facility
StateImpactPA: Does Chesapeake Energy Sell Gas To Itself?
Philadelphia
Plan Philly: Phila. waterfront: Where high-rise dreams go to die
Philadelphia Daily News: Will Philly play host to the 2016 Democratic National Convention?
Philadelphia Inquirer: City finance officials say no new funding for schools
Philadelphia Inquirer: Big Tent: Margolies advertises historic vote in PA 13 race
WHYY Newsworks: Philly DA seizes homes at an alarming rate
WHYY Newsworks: Philly lawmaker proposes state training for neighborhood watch groups
WHYY Newsworks: Philadelphia judge removed from office
SEPA
Pottstown Mercury: Demand for gay-marriage licenses from Montco is rising
Pottstown Mercury: Videos: Rally held in support of Montgomery County Register of Wills
Daily Times: Haverford School Board approves grant
Pittsburgh
Tribune Review: Judge says Pittsburgh's challenge of UPMC's exemption from city's payroll tax belongs in state court
WTAE: Bedway pleads guilty, says idea came from then-police chief
KDKA: Braddock Mayor Performs First Gay Marriage In Allegheny Co.
Post-Gazette: Legionnaire's still puzzles Pittsburgh Veterans Affairs officials
Southwest
Altoona Mirror: Leaders: Home rule may give advantage
Altoona Mirror: Five-year battle over assault allegations ends with $100 fine
Altoona Mirror: Valley View Park maintains identity
Beaver County Times: DEP to hold meeting regarding coal ash storage
NEPA
Times Leader: Safety always a concern for municipal leaders
Times Leader: Man accused of shooting spree in Poconos arraigned
Times Leader: Controller Griffith resigning from post
Times-Tribune: Mellow alleges mistreatment in prison
Times-Tribune: Company proposes $500M natural gas-fired power plant in Jessup
South Central
The Sentinel: Cawley kicks off push to preserve Pa. military industry
The Sentinel: Harrisburg's first round of crime cameras installed
The Sentinel: Personnel investigate reported gas leak near Hanover Street
The Sentinel: Farmers on the Square start 'Double Up Food Bucks' program
The Sentinel: Silver Spring Township community rallies at National Night Out
Roxbury News: Municipal Authorities: Financing Needs Throughout the Commonwealth
Lebanon Daily News: Water woes plague Richland residents
Lebanon Daily News: Jackson revs up speeding discussion
Lancaster Online: Quarryville police chief will add role of borough manager
Lancaster Online: Salisbury supervisors endorse Urban Outfitters project
York Dispatch: Demand for gay-marriage licenses in Pa. is rising
York Dispatch: Alleged township meeting shooter had lost property over complaints
York Daily Record: Shooting at Pennsylvania municipal building hits home for York County officials
York Daily Record: Red light coordination could unclog city streets
York Daily Record: York agencies see steady Pre-K Counts grants
Patriot News: HACC, Harrisburg Hope announce mayoral debate
Patriot News: Casey knocks Supreme Court and voter ID laws on voting rights anniversary
Patriot News: Send us your questions for Attorney General Kathleen Kane
Patriot News: Lt. Gov. leads commission to protect Pa.'s military bases from closure and realignment
Patriot News: Local municipal officials say potential for violence isn't new concern as they react to fatal meeting shooting
Patriot News: Mechanicsburg Borough Council approves plan for Rutter's convenience store on West Trindle Road
Patriot News: Home Rule Commission outlines government study process in Carlisle
Patriot News: National Night Out events in midstate bring together community members, law enforcement
Patriot News: Harrisburg teachers resign as union agrees to pay cuts
Patriot News: Shooting shakes people in 'pretty quiet' Saylorsburg
Patriot News: Dan Miller can save $25 and block Republicans from naming a replacement candidate for mayor
Patriot News: Fumo can expect Spartan living in Philadelphia halfway house
Lehigh Valley
Express-Times: Nazareth Borough Council extends police chief's contract until year's end
WFMZ: Salisbury Township denies appeal from developer Abe Atiyeh
Reading Eagle: Officials in Berks ponder possibility of violence at meetings
Reading Eagle: Details of Pa. voter ID enforcement ban in dispute
Reading Eagle: Keystone Opportunity Zone eyed for Titus power elite
Reading Eagle: Making a Reading street friendlier to pedestrians
North by Northwest
Williamsport Sun Gazette: Lawmaker retiring from law practice, not legislature
Williamsport Sun Gazette: No smoking ordinance fails to pass
Opinions
Times-Tribune: Rebuild it and they will come
Post-Gazette: Coal barons: GOP lawmakers try to turn back the hands of time
Blogs
Jon Geeting: Anti-Growth Candidate Bruce Sigmon Drops Out of Bethlehem Mayor Race
Lu-Lac Political Letter: Griffith Gone
Above Average Jane: Philly Education: What's An Outsider to Do?
Commonwealth Foundation: BREAKING: State Monopoly Brings in Record Revenue
Keystone Politics: PA Municipal Officials Afraid of Getting Shot
Keystone Politics: Rep. Lou Barletta's staff apparently investigating Obama birth certificate materials