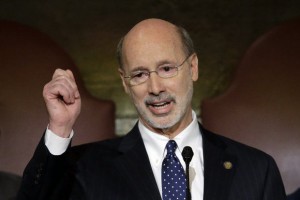 We're approaching Governor Tom Wolf's one year anniversary in office.
Before he took the oath, I examined if he could be effective in Harrisburg and quoted the former President John Adams' assertion that "I am determined to control events, not be controlled by them".
It would surely be fair to say Gov. Wolf has been controlled by events.
The prime example of this is the lack of a full budget agreement. The stalemate is widely viewed as the Governor's major failure during his first year in office and proof that he is having an extraordinary difficult time adjusting to the job.
In reality, however, our budget situation is not the product of a him or even the group of individuals who run the state legislature. Rather our situation is a reflection of the sentiments of the public at large and the peculiar structure of our government.
Most commentators, and even most citizens, believe that it is imperative that the Governor and the state legislature get a deal done. They believe the lack of compromise is the cause of all problems and the root of the public's anger.
But what if that isn't the case at all?
In a recent piece from Chris Palmer and Angela Couloumbis of the Inquirer, they quote one of Wolf's friends who notes that the Governor is an excellent chess player. Yet what no recognizes is that the GOP legislative majority is playing checkers and it makes perfect sense for them to do so.
The Governor has a statewide constituency, which generally leans Democratic, made up of many moving pieces concerned with several different issues. On the other hand, the Republican majority mostly consists of small communities in rural districts, which are laser-focused on defending a few core principles.
Since Pennsylvania is a large state with a considerable but compact population, divided government seems to be our destiny for quite some time.
So what incentive do the officials in Harrisburg have to actually reach a deal?
The Governor and his fellow Democrats want new taxes to pay for social spending while Republicans are strictly opposed to any additional taxation. Additionally, any chance that the legislative wheels could be oiled with earmarks (or liquor) like in the past is impossible in today's media landscape.
Therefore, the likelihood of a budget deal are no better this year than they were last year.
Is this such a catastrophe? Not necessarily.
Remember, in D.C. we went years without a proper budget. Republicans even made this a campaign issue for awhile. Eventually, they pushed the Congress to pass a budget but in doing so spent political capital on a process issue when it could've better been used on policy.
Our fiscal future will likely resemble Washington, where the concept of yearly budgets has faded away and government funding becomes a continually debated legislative issue. So far the officials in D.C. have been mostly successful in keeping the lights on (the key word there is mostly).
This is probably not a welcome development for Pennsylvanians, but it nonetheless appears to be our new reality.