The debate over immigration reform, sure heat up this summer, has now hit PA thanks to the efforts of an anti-immigration reform group called NumbersUSA.
As first reported by Tim McNulty of the Pittsburgh Post-Gazette, the ad began airing Sunday and is primarily aimed at the Pittsburgh media market. According to the report, Pennsylvania is one of only eighteen states where the ad is, or will soon be, airing.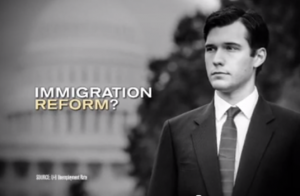 The Pittsburgh buy is focused on major network news broadcasts and totals in the range of $25,000 this week in the Pittsburgh market.
The thirty second spot attacks recent Congressional efforts at immigration reform as a threat to unemployed citizens.
"Why is Congress talking about giving 33 million new work permits to foreign job seekers," a narrator asks. "That's like putting the entire population of Canada in line for American jobs."
"The politicians call it immigration reform. What kind of reform brings in more foreign job-seekers when what 20 million Americans need is more jobs?"
NumbersUSA is headquartered in Arlington, Virginia and was founded by Robert Beck in 1997. Its website states that "Those who need to refer to NumbersUSA with a short, descriptive modifier should call it an 'immigration-reduction organization'." The group notably took credit for torpedoing the 2007 attempt to change the nation's immigration system.
The organization is well-known and has been criticized by some on the left. The Southern Poverty Law Center identified them as part of a D.C. "Nativist Lobby". During the last immigration debate in the mid-2000s, the Wall Street Journal went as far to state that NumbersUSA was part of a wide-ranging effort to enforce population control.
The group prominently displays a message on its website saying, "'No' to Immigrant Bashing."