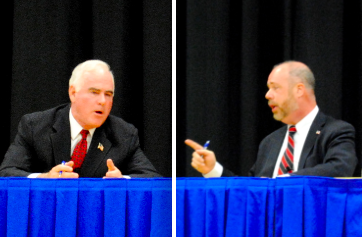 Aston — George Badey and Rep. Pat Meehan (R-Delaware) attempted to set the record straight about what the Ryan budget proposal means for Medicare and the country in their only debate of the campaign Thursday afternoon.
Badey attacked his opponent, reading one of Meehan's own quotes off a paper he had in his pocket. He referenced Meehan's support of the Ryan budget and claimed that voucher system for Medicare will turn the Medicare system over to the insurance companies thereby effectively eliminating it.
"I was happy to keep the promise that I made to seniors over 55 that nothing will change for them in Medicare," said Meehan smoothly, saying what was proposed in the budget for which he voted, reiterating that Medicare on its current path will soon be bankrupt.
The event was moderated by the respected broadcast journalist Larry Kane and hosted by the Neumann University Center for Community Leadership, Development, and Entrepreneurship.
Badey is looking for a come-from-behind victory to unseat Meehan in Pa.'s 7th district, and needed a decisive debate win. Thus far, Meehan has been confident about his ability to secure his seat for another two years, so much so that he canceled a broadcast TV buy that had been slated to run from late October through election day.
Regarding the ever-growing deficit, Badey proposed a three-step plan to tackle debt: spending cuts, more revenue, and economic growth. He criticized Meehan's opposition to legislation such as the Bring Jobs Home Act and again criticized his support of the Ryan budget.
Badey views tax breaks for corporations and for the rich having as no place in today's economy, "the priorities are simply wrong." He asserted that the Ryan budget hurts the middle class by favoring the super-rich and corporations.
Meehan struck back citing the Obama administration as who's to blame for the current debt situation stating, "Let me begin first with the underlying problem, which is the dramatic growth of the debt that this nation has undertaken… We are growing at a trillion dollars a year and it is simply unsustainable."
In a very timely question, the moderator addressed federal funding for emergency and disaster preparedness agencies such as FEMA. The moderator cited Romney's remarks during the primaries when he proposed sending the work of some federal agencies back to the states or the private sector.
Meehan was tactful in his response and suggested that some of the issues that agencies like FEMA could benefit from allowing some of its work to be done at a local level in order to better understand communities' needs.
Badey claimed that Meehan's position about funding of FEMA was "just untrue" and critiqued his backing of the Ryan budget because it would "cut over 22 percent of FEMA's funding."
During the debate Meehan presented himself with poise and gave measured explanations to the questions asked of him. Badey was less reserved and at times came across as casual, although genuine.
The moderator raised the topic of women's issues toward the end of the debate. Badey condemned Meehan's vote to cut funding for Planned Parenthood, pronouncing that cutting funding to Planned Parenthood also means eliminating preventative health care options for many women. Regarding abortion he referenced former President Clinton when he asserted that it should be "rare, safe, and legal."
Meehan, who is pro-life, cited work he has done in the legal profession on the part of victims of domestic abuse as evidence of his concern for women's issues.