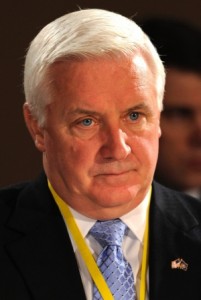 Governor Corbett received a setback today in his effort to push for pension reform.
The Gov. shocked many political observers, not to mention PA citizens, when he declined to sign the budget that was passed by the state legislature on Monday.
Corbett identified the lack of any type of pension reform in the budget as his reason for reluctance to the sign the measure. At the moment, he has not ruled in or out eventually signing the budget into law.
In fact, the Governor's pronouncement was about as measured as a statement announcing a shutdown could be. He even congratulated the Republican legislature for passing the budget on-time and without tax increases (although not signing the document makes the former accomplishment a rather moot point).
His hopes of a major initiative, though, were dashed earlier today.
The State House voted to send the main pension reform bill to the House Human Services Committee where it is expected to wither and die. The committee is chaired by Rep. Gene DiGirolamo (R-Bucks), one of 15 Republicans who voted with the 92-member Democratic caucus to punt the bill away.
We'll have more updates as events progress.