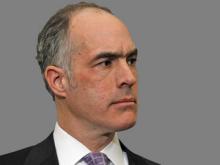 Four senators, including Pennsylvania's Bob Casey, authored a letter that denounces Washington Post conservative columnist George Will's recent article that addresses sexual assaults on college campuses.
Will's column, "Colleges become the victims of progressivism," uses what he calls the "epidemic of rape, a.k.a. 'sexual assault'" to illustrate the liberal victimization of college students.
As an example, Will uses a report from Philadelphia Magazine to point out the ambiguity of sexual assault on college campuses.
He concludes, "Academia is learning that its attempts to create victim-free campuses — by making everyone hypersensitive, even delusional, about victimizations — brings increasing supervision by the regulatory state that progressivism celebrates."
Senators Casey, Richard Blumenthal (D-CT), Dianne Feinstein (D-CA), and Tammy Baldwin (D-WI) issued a response to Will's column.
"Your thesis and statistics fly in the face of everything we know about this issue," the letter reads. "More egregiously, you trivialize the the scourge of sexual assault, putting the phrase in scare quotes and treating this crime as a socially acceptable phenomenon. It is in fact a spreading epidemic, and you legitimize the myths that victims and victim advocates have worked tirelessly for decades to combat."
"Your column suggests that we – including some of us who have worked on this issue for many years – all have missed a subculture on college campuses where survivors of sexual assault are inducted into a privileged class," they continue. "The culture you described is so antiquated, so counterintuitive and so contrary to anything we heard that we hope you will make an effort to hear the stories survivors bravely shared with us about the struggles they face in addressing what has happened to them – often with little meaningful assistance from authorities expected to help them."
Although the Senators sharply criticize Will's column, others have called for him to be fired. A group called UltraViolet has collected 87,000 signatures in a petition to remove Will from the Washington Post.