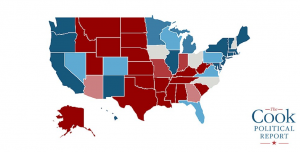 Donald Trump has moved Pennsylvania from "Toss-Up" to "Leans Democratic".
That's the conclusion of Charlie Cook, Amy Walter and David Wasserman of the Cook Political Report.
"This has been an exceedingly unpredictable year," they wrote. "Although we remain convinced that Hillary Clinton is very vulnerable and would probably lose to most other Republicans, Donald Trump's historic unpopularity with wide swaths of the electorate – women, millennials, independents and Latinos – make him the initial November underdog."
"As a result, we are shifting 13 ratings on our Electoral Vote scorecard, almost all of them favoring Democrats," they declared. "Our assessments are based on publicly available polling, data on demographic change and private discussions with a large number of pollsters in both parties. Much could change, but undecided voters begin more hostile to Trump than Clinton."
Pennsylvania is one of five states that they switched from "Toss-Up" to "Leans Democratic" (Colorado, Florida, Virginia and Wisconsin were the others).
In fact, of the 13 changes, 12 of them favor Clinton.
Earlier this week, CNN released their first electoral map which also categorized PA as a "Leans Democratic" state.