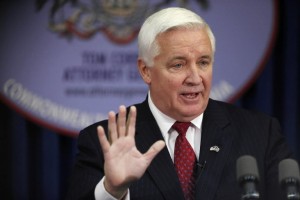 Instead of accepting the federal Medicaid expansion under the Patient Protection and Affordable Care Act or rejecting it outright, Governor Tom Corbett officially moved forward on a hybrid plan Friday that unsurprisingly, Democrats don't like.
Corbett's plan, called HealthyPA, doesn't use federal funds to expand Medicaid. Instead it uses the funding to offer subsidies on the private health care market. It eliminates most copays and reduces premium costs for those that would have been eligible under the federal Medicaid expansion. The proposal also requires enrollees to fulfill work search requirements and engage in health measures, including regular physical exams.
HealthyPA was proposed back in September, but the Corbett administration announced this week that it is formally moving forward with the plan by filing Waiver 1115 with the federal Department of Health and Human Services.
The plan has been met with popular approval. The American Cancer Society surveyed Pennsylvanians and asked respondents whether they supported a HealthyPA type plan or the Medicaid expansion as a combined option, or opposed to both. Support for any sort of expansion in access to subsidized health insurance was  65% to 25% in favor.
But Democrats contends the plan will not adequately provide coverage for the targeted population. His 8 would-be opponents have all criticized the move.
The state party accused Corbett of rejecting a Medicaid expansion entirely.
"Corbettcare is an out-of-touch health care plan that focuses more on playing politics than providing quality, affordable health insurance to all Pennsylvanians.  Corbett's proposal will reduce benefits, create obstacles, and increase costs for the the Commonwealth's most-vulnerable," PA Dems spokesman Marc Eisenstein said. "We're not surprised considering Governor Corbett's record on health care. He has kicked 90,000 children off of Medicaid, expelled 40,000 Pennsylvanians off of adultBasic, and slashed $84 million dollars from social services funding."
While Corbett's plan doesn't expand Medicaid, it does accept federal funds and provide subsidies for individuals and families living in poverty.
Pennsylvania Health Access Network released a statement that supported the plan, but condemned its timeline; the Corbett proposal doesn't take effect until January 2015. PHAN is a statewide coalition of groups interested in reforming the private insurance provider system to expand care to the uninsured and keep medical costs affordable.
"Expanding coverage right away will not only protect hundreds of thousands of low-income Pennsylvanians who will finally have access to stable, affordable health coverage, it will also generate $522 million in state budget savings in 2014 and keep us on track to create 35,000 new, good-paying jobs across the Commonwealth," PHAN Director Antoinette Kraus said. "Delaying by a year will mean much needed revenue to our state lost and another year Pennsylvanians will be forced to gamble with their economic and physical health."