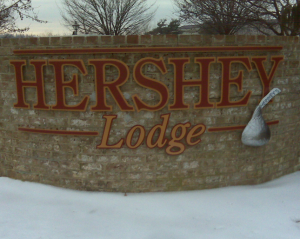 Democratic winter state committee: where people who want to be Governor buy you drinks!
Democrats have a lot to celebrate – especially compared to 2011's dreary winter meeting. The party took every statewide office and 3 new state Senate seats in November, and Gov. Corbett's numbers have all of them chomping at the bit.
Committee members and activists from across the state will gather in Hershey to plot their effort to take the Guv's mansion (and the state House and congressional delegation, where they got shut out).
They'll also endorse for Pa. Superior Court.
Republicans are also meeting this weekend, a little ways down the road in Harrisburg.
Stories to watch:
2014 Gov-stakes
Who attends this weekend will go a long way toward indicating who plans to try and challenge Gov. Corbett next year.
Will Allyson Schwartz show up? Joe Sestak?
State committee meetings are a great place for prospective candidates to network, and between the open bar receptions and good old fashioned schmoozing expect to see several of the possible candidates. The two declared Guv candidates (John Hanger, the former DEP Secretary, and Max Myers, the Cumberland County pastor) are hosting receptions.
Brad Koplinski, the Harrisburg City Councilman running for LG, is hosting a hospitality suite with the Pa. Young Dems.
2013
This will be an interesting referendum on the east-west balance of power in the Pa. Dems. For some time, Philly Judge Joe Waters has looked like a lock on the Pa. Superior Court endorsement. But in the final hours before the weekend, Allegheny County attorney Michael Wojcik threw his hat in the ring. Waters has not one but two receptions on the agenda, and Wojcik just announced his own hospitality suite.
Here's the full schedule:
Friday
Party business
2:00 pm to 2:30 pm – DEMINAR: Circulating Petitions 101 – Crystal A Room
2:45 pm to 4:15 pm – DEMINAR: Coordinating around Issues: Voter ID Case Study – Crystal A Room
4:30 pm to 6:00 pm – Credential Table – Confection Lobby
4:00 pm to 8:00 pm – Women's Caucus Silent Auction – Confection Lobby
4:30 pm to 5:30 pm – Caucus Chairs Meeting – Magnolia C Room
Candidates Forum and Open Table "We The Women" presented by the Women's Caucus
5:00 pm to 6:00 pm
Second Star Society Members Only Victory Dinner
Aztec Room Chocolate Ballroom
6:00 pm to 8:00 pm
This is the big, official dinner. State officials will speak.
"A Sweep is Sweet in Hershey Celebration"
Nigerian Room Chocolate Ballroom
8:00 pm to 9:30 pm
$30
This is a dessert reception for state committee members (who get in free) by Chairman Jim Burn.
John Hanger for Governor reception
Cocoa Suite 2
9:30 – 11:00 pm
First Pa. Society and now Dem state committee, John Hanger is pushing the reception circuit. Meet the former DEP Secretary and environmental advocate who wants to challenge Corbett.
Max J. Myers for Governor "Restoring Pennsylvania" reception
Cocoa Suites 3
9:30 – 11:00 pm
Not sure who Max Myers is? Here's your chance to find out.
Meet and greet with Judge Joe Waters
Cocoa Suite 6
9:30 – 11:00 pm
He's been pounding the pavement for several weeks in pursuit of the nomination; here's his first of two efforts to seal the deal this weekend.
A "Superior" Hospitality Suite with Michael Wojcik
Room 5827-1
9:30pm – ?
Attorney Wojcik formerly worked for Rick Fitzgerald and Dan Onorato, and he's hoping his geographic base will help him secure the nomination. Here's his first introduction to state committee.
Hospitality Suite with Brad Koplinski and the Pa. Young Democrats
Room: TBD
Time: TBD
Stay tuned for details on this one; the Young Dems throw the best parties.
Saturday
Have a cup of Joe with Judge Joe Waters
Confection Lobby
7:00 am to 9:00 am
Here's Joe's round 2.
Party business
8:30 am to 11:30 am – Credential Table – Confection Lobby
8:00 am to 9:00 am – Constituency Caucuses
9:00 am to 10:00 am – Standing Committees
10:00 am to 10:30 am – Executive Board Meeting – Empire CD Room
10:00 am to 11:00 am – Young Democrats Meeting – Tower Suite 1
10:30 am to 11:30 am – County Chairs Meeting – Empire CD Room
11:30 am to 12:30 pm – Regional Caucuses
Winter Meeting
Nigerian/Trinidad Room – Chocolate Ballroom
1:00pm
This is the official meeting, when party members will vote on an endorsement for Pa. Superior Court.