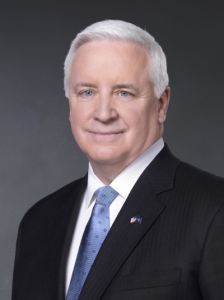 It was a long time coming, but Governor Corbett finally officially put pen to paper on the transportation funding bill. This piece of legislation, whose failure last summer was part of an embarrassing episode for the Governor, now becomes his largest political and legislative victory this year.
Corbett was so happy to sign this piece of legislation that after the official ceremony in Potters Mills, he flew to Montgomery County to hold another event.
"We're here to celebrate in our effort to keep people safe. After a great deal of debate we have a transit bill that will help people on every work day travel," Gov. Corbett said. "This is the path to success. There isn't a corner of the state that will not be touched by this bill."
The Governor spoke near the Route 422 interchange and six-lane bridge over the Schuylkill River. The replacement of the bridge over the next two years, at a cost of $149 million, is an example of one of the projects included in this piece of legislation.
The bill appropriates $2.3 billion a year for the state's transportation system until 2017-18. Of that money, about $1.65 billion will go to highways and bridges while $476 to $497 million is marked for the state's mass transit systems.
It will also slowly fade out the cap on the Oil Company Franchise Tax (OCFT). The bill will be funded by this increase in the gas tax and higher driver fines and fees. These measures, as well as a change in the threshold for prevailing wage projects from $25,000 to $100,000, briefly imperiled the legislation last week.