Gov. Corbett Starting To Take Heat Over PSU Investigation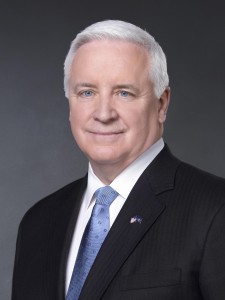 By Ali Carey, Contributing Writer
In the weeks since the alarming news of the Penn State child sex abuse scandal broke, PSU has seen some big changes.
Iconic football coach and former Presidential Medal of Honor nominee Joe Paterno was fired, president Graham Spanier was ousted and athletic director Tim Curley and former senior vice president Gary Schultz were charged with perjury.
In the days that followed the initial news of the scandal more and more disturbing evidence surfaced.  Amidst the controversy, Pennsylvania Governor Tom Corbett appeared to be coming out relatively clean.
Gov. Corbett chastised university officials that failed to stop former assistant football coach Jerry Sandusky from abusing children. Appearing in front of numerous national television audiences, the freshman governor came across as a confident prosecutor committed to making things right at Penn State.
Since then there has been a change of tone in the public sphere, and critics have begun to ask why Gov. Corbett why he didn't do more to stop Sandusky himself.
Gov. Corbett served as Pennsylvania's Attorney General until January 2011, meaning that Corbett was the state's top law enforcer during six year's of Sandusky's crimes.  The case began during his tenure, but proceeded slowly.
Some are questioning Gov. Cobett's priorities as Attorney General which lead him not to close on Sandusky's case once and for all during his tenure.
As columnist Buzz Bissinger of Newsweek/The Daily Beast wrote, "the way his office handled the investigation raises inevitable and legitimate questions about why an alleged sexual predator was allowed to remain at large for nearly three years while the grand jury investigated."
Corbett gained a seat on the Penn State board in January but never told his fellow board members or university officials to bar Sandusky from campus until his arrest this month.
According to Corbett's Press Secretary Kevin Harley, the Governor could not legally disclose information about Sandusky to the board because he would have been violating the grand jury secrecy oath that he took.  Pennsylvania law forbids prosecutors from disclosing grand jury proceedings.  Only judges can give permission to break the secrecy provision.
Gov. Corbett has also come under fire for personally approving a $3 million state grant to Sandusky's charity, The Second Mile Foundation.  Sandusky allegedly met many of his victims through the charity.
Harley countered that the charity "hasn't been charged with anything."
In an interview Wednesday with CBS, Gov. Corbett explained that when he approve the grant for Second Mile he knew that Sandusky had already been removed from the organization.
However, Gov. Corbett has since decided to rescind the grant.
"The Second Mile had good purposes," Corbett said. "I'd like to see it go forward. I don't know whether it will be able to continue to go forward, and I hope there is a successor to the organization. Right now we have to pull back the grant."
Gov. Corbett is continuing to defend the timeline of Sandusky's investigation.
"I believe the Office of Attorney General did everything they could, moved this case along as quickly as we could with the resources available," said Corbett.
"There isn't any Governor in recent memory, to me, in this state that has done more to protect children than me so if you think I delayed it for any reasons, you're wrong," Gov. Corbett said.