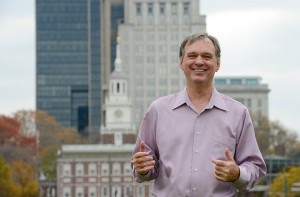 Today, former DEP Sec. John Hanger asked his fellow candidates to stop the conflict over primary funding, and instead focus on the general election in November 2014.
At the Pennsylvania Society gathering in Manhattan last weekend, gubernatorial candidates exchanged thinly veiled jabs about opponents' fundraising.
Rob McCord and Rep. Allyson Schwartz each subtly took aim at Tom Wolf, the former Revenue Secretary and businessman who has pledged to spend $10 million of his own funds in the primary. He raised an additional $2.9 million in 2013.
Hanger called the focus on Democratic primary campaign fundraising "obsessive," and introduced a proposal that would limit primary spending.
"I have called for the Democratic candidates for governor to agree to a campaign spending limit of $3 million to $5 million in the primary," Hanger said. "That limit would allow candidates to reach the voters with their messages, but prevent any one candidate from buying the election. I have also called on them to support public financing of the campaign for governor."
He said that spending $30 million in the primary, along with bickering between candidates, would only weaken the Democratic nominee against Gov. Tom Corbett.
The challenge was not necessarily spurred by magnanimity. It is unlikely Hanger will prove to be a competitive fundraiser compared with several other Democratic hopefuls.
Candidates for governor aren't obligated to reveal their campaign finance reports until the end of January. In addition to Wolf's announcement of $2.9M raised, Pa. Society rumor suggested Katie McGinty will report $2 to $2.5 million.
Hanger said at the end of last year that he had raised $250,000. But it was unclear at the time whether that number included pledged donations that he hadn't actually received.
"We have chosen a different path to victory," Hanger said in the press release. "Our People's Campaign focuses on engaging with the voters and building a solid team of dedicated supporters around Pennsylvania. Our clear support of issues like marijuana reform, stopping the privatization of public education and single-payer health care are building a movement that will shock the elites."