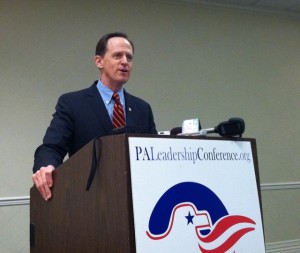 Paging Pat Toomey.
A group of organizations that advocate immigration reform Thursday unveiled the results of a poll that shows nearly two-thirds of PA voters support a bill currently before the U.S. Senate.
Their audience is Toomey, a Republican Senator whose support could help earn the proposal bipartisan backing.
But the poll's questions are far from neutral.
The survey by GOP pollster Harper Polling found that 65% of Pennsylvania voters support the Senate's bipartisan "Gang of Eight" immigration reform proposal. That support, however, is a bit soft, as only 33% of respondents strongly support the bill and the other 32% only somewhat support the bill.
58% of PA voters agreed that it's very important to fix the immigration system this year, with an additional 28% saying it was somewhat important.
The poll was sponsored by three pro-reform groups, the Alliance for Citizenship, Partnership for a New American Economy, and Republicans for Immigration Reform.
Just like any poll commissioned by a candidate or advocacy group, take the results with a grain of salt. Or in this case, a whole tablespoon. Groups that pay for a poll have the final say over wording choices, and in this case the poll questions were slanted strongly in favor of the bill.
Case in point, this section from one of the questions:
"My Senator should support this legislation because everyone agrees our immigration system is broken and this bill is tough, but fair. It would tighten border security, crack down on employers who hire undocumented immigrants and solve this problem once and for all."
Unsurprisingly, the question found 83% support from respondents, despite the fact that opponents of the bill have offered valid critiques to several of its premises.
The poll was part of a coordinated push across 29 states including deep red states like Utah and Idaho, solid blue states such as Maine and Illinois, and perennial toss-up states like Ohio, Florida, and Virginia.
The survey found that 57% of PA voters would be more likely to vote for an elected official who voted for the legislation as the pollster described it.
While Toomey has remained non-committal, he did vote twice earlier this week, along with most Republicans, to proceed with debate on the bill.
The survey of 548 Pa. voters was conducted June 3 and 4 via interactive voice response calls to landlines and cell phones. The margin of error is plus or minus 4.19%.