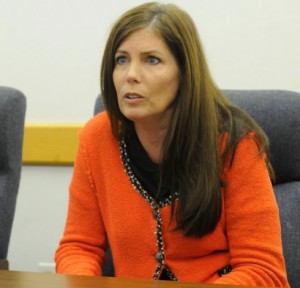 The Attorney General's office must have a revolving door.
According to Ben Finley of the Philadelphia Inquirer, Kathleen Kane's Chief of Staff Blake Rutherford is stepping down today.
"While I will miss working alongside each of you, I am excited about what this new chapter holds for me and my family," Rutherford wrote in an e-mail to friends and colleagues.
"I want to express my appreciation to General Kane for providing me with this opportunity and to all of you for your work on behalf of the people of Pennsylvania. It has been a privilege to serve, and I wish you the very best."
Rutherford is Kane's fourth chief of staff and had only been working for the AG for just four months.
Staff departures have been a major issue during Kane's tenure. In fact, her Press Secretary left just last month.
Rutherford's departure bookends perhaps the worst week of the Attorney General's career.
On Tuesday, the State Supreme Court ruled a special prosecutor could pursue a case that may end in her indictment. On Thursday, it was revealed she had killed subpoenas for two powerful and influential Northeast PA figures. This morning, the Inquirer published an op-ed calling on her to resign.
Suffice to say, it's becoming harder and harder to see how Kathleen Kane can overcome all this.