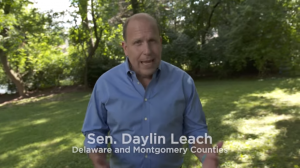 State Senator Daylin Leach (D-Delaware) made it official over the weekend, he is entering the race to challenge Congressman Pat Meehan (R-Delaware).  
"Today, I officially declare myself a candidate for Pennsylvania's 7th Congressional District," Leach said in a release.  
Leach cites last year's election as his main motivation for running.  
"Initially, I was reluctant to run. But since last year's election, voters, party and community leaders, representatives and leaders of advocacy and resistance groups and progressive organizations, and many others from across the congressional district have been urging me to run."
In May, Leach sent out an email to supporters asking if they thought he should run for Congress.  The announcement this weekend came ahead of the July 6th date Leach set in a separate email to supporters as the day for his announcement.  
Leach released a video along with his announcement.  
https://www.youtube.com/watch?v=4B8VPv1-TZM
Leach was first elected as a state Representative in 2002, then to the state Senate in 2008.  He ran for Congress in 2014 in the 13th district.  Leach came third in a four person primary after raising the second most.
Leach joins Democrats Andrew McGinty, Elizabeth Moro, Dan Muroff, Paul Perry, and Molly Sheehan in the race.  
Update: Meehan's campaign welcomed Leach to the race. 
"We welcome [Leach] and the other five left-wing Democrats looking to challenge Congressman Meehan to the race and look forward to the exchange of ideas," campaign spokesman John Elizandro wrote in an email.