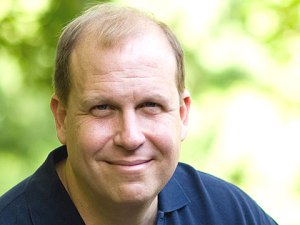 State Senator Daylin Leach, a co-sponsor of S.B. 1182, a bill that would effectively make medical marijuana legal in the state of Pennsylvania, is taking his fight straight to the Governor's office.
Leach, also a candidate in Pennsylvania's 13th congressional district race and a committed progressive, plans to stage a sit-in if Tom Corbett refuses to meet with him or the Republican co-sponsor of the bill, State Senator Mike Folmer.
"We want Governor Corbett to provide a confirmed date and time by May 2nd of when he will meet with me, Sen. Folmer, and at least six parents of children who can benefit from this medicine," Leach said at a recent press conference this morning. "We demand, and do not think it is at all unreasonable to hold a group meeting before the end of May. If not, at a time of our choosing, families from across the state will gather in the Governor's Reception Room until he agrees to meet. These families are desperate and tired of waiting."
S.B. 1182, known as the Compassionate Use of Medical Cannabis Act, is the first medical marijuana bill introduced in the state Senate that has garnered bipartisan support.
Leach's outspoken commitment to the issue is due to Governor Corbett's alleged declaration that if any medical marijuana bill was to reach his desk, he would veto it outright.
"Governor Corbett has done nothing on this issue while Pennsylvania families suffer," Leach added. "Since the Senate Law and Justice Committee's hearing on January 28th, the families of 12 children have calculated that their children have suffered more than 108,000 seizures, spent 63 days in the hospital, used last resort, rescue medications 195 times, missed 184 days of school, and were rushed to the emergency room 20 times.
"The administration's inaction is callous and inexcusable. We will come to him if he continues to ignore their immeasurable suffering."
As a very liberal-minded and progressive politician, Leach received the endorsement of former gubernatorial candidate John Hanger in his bid for the PA-13 seat. Hanger ran his campaign on ending the "disastrous prohibition on marijuana that is destroying entire communities across Southeastern Pennsylvania." He even utilized billboards that read, "Legalize and Tax Marijuana NOW!!!" Hanger, when referring to Leach, said that he was "a true warrior for our shared progressive values."
Leach wrote, via his Facebook, that he will "stay as long as it takes for [Corbett] to agree to a meeting, or until he has us forcibly dragged out and arrested."