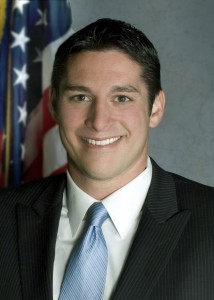 If you're still wondering how the west was won, ask State Rep. Brandon Neuman (D-Washington).
Last week, Neuman unveiled a slew of Northwest PA endorsements from elected officials, and this week, he wrangled in another handful from the Pittsburgh area.
The latest endorsers include Pa. Rep. Pam Snyder (D-50th), Frank Dermody (Pa. House Minority Leader), Paul Costa, Dom Costa, Dan Deasy, Tony Deluca, Dan Frankel, Bill Kortz, Nick Kotik, Joe Markosek and Rob Matzie.
"Representative Neuman is one of the brightest people in the House and he has a big impact on legislation that affects people," said Rep. Frank Dermody. "He's a forceful advocate for better protection of vulnerable children and care-dependent seniors. Brandon Neuman is an engaging person who brings energy and deep intelligence to everything he does."
"Among the greatest compliments that a public servant can receive is being acknowledged by your peers for your efforts and performance," Neuman responded. "I am very grateful for their confidence in me."
His Erie area support comes from PA lawmakers Reps. Ryan Bizzarro of Millcreek, Patrick Harkins of Erie, and Flo Fabrizio, also of Erie, have pledged their support to their colleague Neuman. Several other Erie County Dems have thrown their support behind Neuman, including Erie City Councilman Bob Merski, Erie County Councilmen Jay Breneman, Phil Fatica and Andre Horton, and former Erie County Councilwoman Joy Greco, who is also an elected Millcreek Township auditor.
Neuman is one of two Democratic candidates for Lieutenant Governor from Western PA; the other being former Congressman Mark Critz. But despite running multi-million dollar campaigns in the region, Critz is being outpaced in fundraising and endorsements by the young State Rep.
Also running for the Democratic nomination are Harrisburg City Councilman Brad Koplinski, State Senator Mike Stack and Bradford County Commissioner Mark Smith.