In a new radio ad, Gubernatorial candidate Paul Mango targets comments by fellow candidate Scott Wagner and members of his campaign.  
"Scott Wagner has set the record for the lowest political attack ever," the ad's voiceover says.  
"Wagner, who's never served in the military, attacked Paul Mango for serving his country."
The ad points to comments Wagner made on WHTM's Sunday show This Week in Pennsylvania earlier this year when he said Mango "went to West Point. He got a free education."  
Wagner continued to say "[Mango] will be quick to tell people that he has an MBA from Harvard. That means he supposedly is smarter than others."
The ad also points to Facebook posts by Wagner's Lehigh County Chair Kevin Martin about Mango's military service.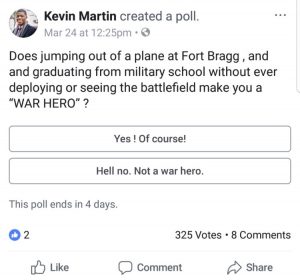 Mango's campaign responded to the posts through retired Four Star General and Army Vice Chief of Staff Dan Allyn. 
"Attacking a Veteran who puts his life on the line for his country shows Wagner lacks character," Allyn said.  
Wagner's campaign questioned the use of Martin's comments, comparing it to comments made by Carla D'Addesi on a controversial podcast.  D'Addesi described herself as the faith-and-family-coalition leader of the Mango campaign to the Pittsburgh City Paper.  
On the podcast, D'Addesi addressed Department of Health Secretary Rachel Levine.  
"Rachel Levine used to be Richard Levine.  And just take a look at the person — I mean, you would be really frightened if this person was in the bathroom with your little girl because she looks like a man. I always say to my husband, 'I adore you, I think you're really handsome, but if you were in the bathroom with me with a skirt and lipstick, I would scream bloody murder, I would be frightened,'" D'Addesi said according to the City Paper.  
"It's interesting that the Mango campaign has now reversed course in their policy that campaign volunteers articulate official campaign positions. Mango's campaign had the complete opposite position with Carla D'Addesi's bigoted remarks in February. We now recognize Ms. D'Addesi's comments as a reflection of Paul Mango's official view of Rachel Levine," Wagner campaign spokesman Andrew Romeo said.  
Mango's campaign spokesman Matt Beynon told the City Paper that D'Addesi was not "a surrogate nor speaking on behalf of the Mango Campaign during her recent appearance with Rev. Moon."
"Paul Mango believes that all Pennsylvanians should be treated with respect and dignity; however, he does oppose Scott Wagner's bathroom bill because it infringes on individual privacy, personal security, and religious liberty," Beynon said.
Wagner's campaign also contends Wagner has never criticized Mango's military service, and pointed veterans who have endorsed his campaign.  
"Scott never criticized Paul Mango's military service. He pointed out that Paul Mango went to college at West Point as a basic biographical fact. Scott has a tremendous amount of respect for our armed forces and is endorsed by Pennsylvania veterans like Congressman Scott Perry, State Senator Guy Reschenthaler, State Senator Ryan Aument, Commissioner Josh Parsons, Don O'Shell – Clerk of Courts York County, Dave Sunday – District Attorney York County and Allegheny County Councilman Sam DeMarco," Wagner campaign spokesman Andrew Romeo said.  
The ad continues the back and forth between Mango and Wagner attacking each other for not being a true conservative ahead of the May 15th primary election.  The back and forth has included an ad attacking Wagner's history and the state GOP Chair calling the attack "over the top."
The ad is running on multiple media markets on conservative news talk radio.  You can listen to the ad below.