More Republican voters cast a ballot for Lieutenant Governor Jim Cawley than Governor Tom Corbett on primary night.
26,868 GOP voters* either wrote in another candidate or left the ballot for Governor blank. Overall, Corbett underperformed Cawley by 7%.
The map below shows which counties had the highest rates of undervoting. Cawley outdid Corbett in 59 counties, they tied in one, and Corbett enjoyed a lead in 7.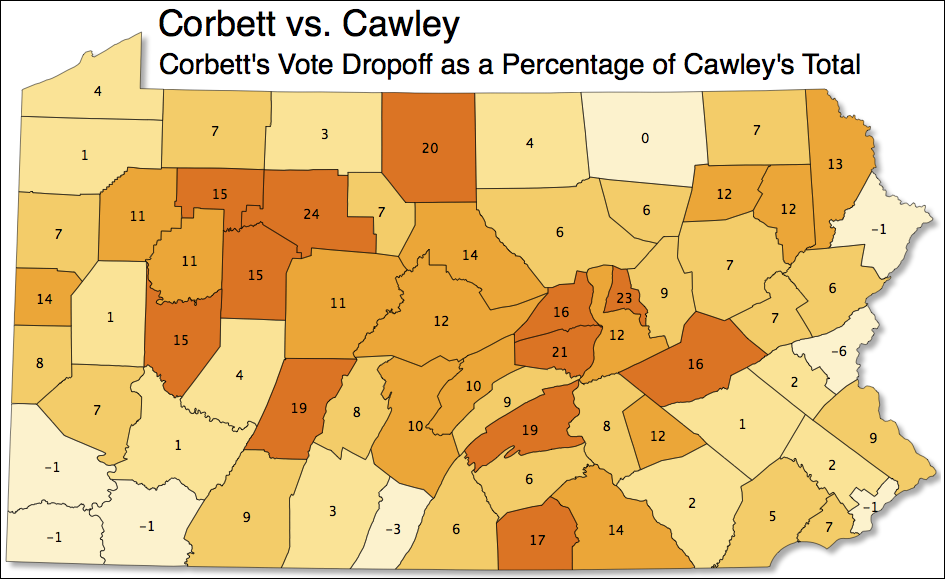 Corbett performed relatively worst in Elk County, where 24% of Republicans cast ballots for Cawley and not him. He did best in Northampton County, where he overperformed Cawley by 6%.
His undervote was 7% in his home County of Allegheny, and 9% in Cawley's home County of Bucks.
In the two counties that saw the highest number of GOP ballots cast, Montgomery and Lancaster, Corbett's undervote was a mere 2%.
Perhaps in a demonstration of the hometown factor for Democratic nominee Tom Wolf, 14% of York County Republicans who voted for Cawley did not vote for Corbett.
Corbett was technically unopposed for renomination after his opponent Bob Guzzardi was removed from the ballot. But the judge's decision to remove Guzzardi came after some counties had already printed their ballots. Those counties counted votes for Guzzardi as write-ins. Cawley was unopposed.
In a statement after the election, Pa. Democrats teased Corbett for the shortfall.
But in historical context, Gov. Corbett's 7% undervote isn't very high. For example, in the 2012 primary 15% of Pennsylvania Democrats chose to leave the box next to President Barack Obama's name blank. That number spiked above 40% in certain conservative counties. In 2006, Gov. Ed Rendell's undervote was 12% as he ran unopposed for renomination.
Vincent J. Smith contributed to this report.
*Note: when these numbers were compiled, results from 0.41% of precincts remained outstanding.
An earlier version of this story incorrectly misstated Corbett's undervote in Bucks County as 8%. It was 9%.