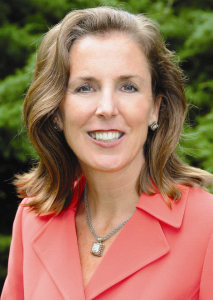 A poll commissioned by Katie McGinty's gubernatorial campaign finds her in second place among Pa. Democrats behind Congresswoman Allyson Schwartz.
"Our poll shows that while Schwartz has the initial advantage because of her name recognition, she has not yet locked down that advantage," wrote McGinty pollster Fred Yang.
In the initial ballot question, before any information is supplied about any candidates, Schwartz lead with 25%. McGinty, state Treasurer Rob McCord and former Revenue Sec. Tom Wolf each took around 6%.
Schwartz has 51% name recognition, followed by McCord at 32%, Wolf at 27% and
McGinty at 20%.
Garin Hart Yang pollsters conducted the survey of 506 likely Pa. Democratic primary voters from August 27 to 29. McGinty's campaign has been using the poll results in its fundraising efforts.
In its polling memo, first obtained by Early Returns, McGinty's pollster emphasizes the second ballot, read after profile statements were read about each of the 4 candidates tested.
There, Schwartz takes 36% to McGinty's 25%, with Wolf at 10% and McCord at 9%.
"If the McGinty campaign has the financial resources and support to present their candidate's exceptional background and record, our polling shows that she has the very
real potential to mount a competitive campaign and to emerge victorious," Yang concludes.
As with any internal polling, the results should be taken with a grain of salt. Pollsters typically prepare two memos following a poll. One emphasizes the positive aspects of the results and is meant for the public; another gives an unvarnished view and is kept within the campaign. The substance and context of this poll make it clear that it has been used as a fundraising tool by the campaign.
So far no poll, independent or otherwise, has shown any of the current candidates leading the race besides Schwartz.
The dynamic of the campaign thus far can be characterized thusly: Schwartz is the front runner, and every other candidate is seeking to present him- or herself as a viable alternative to Schwartz. This poll is McGinty's effort to do just that.
The pollster did not ask about other current or potential gubernatorial campaigns including former DEP Sec. John Hanger, Allentown Mayor Ed Pawlowski, or former Pa. Auditor General Jack Wagner.