Jack McVay Jr., an Allegheny County Common Pleas Judge, has won the Democratic nomination for a seat on PA's Superior Court.
The matchup between Philadelphia Municipal Court Judge Joe Waters and McVay was the only contested statewide race Tuesday.
McVay lead Waters 55.8% to 44.2% with about 93% of precincts reporting.
It was a true east-west matchup: the two opponents hail from the state's most populous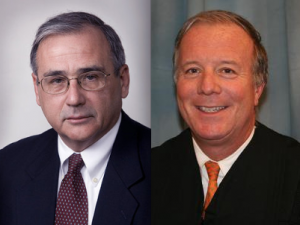 cities and neither one did any advertising. Though Philadelphia has 50% more registered Democrats than Allegheny County, McVay got over 91,000 votes from his home base (87%) to 51,000 votes for Waters in Philly (88%).
Waters was endorsed strongly by the state's Democratic committee at its winter meeting in February.
In addition, Waters also held a financial advantage, according to the latest fundraising reports. The Philadelphia Judge had raised over $57,000, much of it from the state's labor unions, in the period from April 2nd to May 6th.
During that same time period, McVay raised $10,400, most of which came from a PAC connected to a Pittsburgh law firm.
Neither, candidate, however, raised enough money to purchase any TV or radio advertising, making both campaigns heavily reliant on their get-out-the-vote efforts. The relatively higher turnout in Pittsburgh, spurred on by a competitive mayoral primary, may have provided a boost to McVay.
And local Philadelphia's court system exactly had a sterling reputation in recent months, thanks to alleged ethics scandals by some judges.
McVay's strongest support came from the endorsements he received from the state's two most prominent newspapers, the Pittsburgh Post-Gazette and the Philadelphia Inquirer. The Inquirer's was surprising given Waters' Philly roots.
Vic Stabile won the uncontested Republican primary. The general election will be a replay of the geographic matchup from 2011, when Stabile lost to Allegheny County Democrat David Wecht for the same office. However, Wecht's family enjoys high name ID in western Pa., which McVay won't have.
"Vic Stabile's extensive legal experience, coupled with his strong record of community involvement, makes him an exceptionally qualified candidate for the Superior Court. Vic continues to crisscross our Commonwealth with unparalleled vigor and I look forward to working towards victory this November," PA GOP Chairman Rob Gleason said in a congratulatory statement.
A PA Superior Court judge serves a ten-year term and unlike a Pa. Supreme Court justice rarely hears cases of importance to politicos.