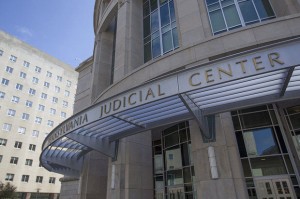 Michael Wojcik, the former Solicitor of Allegheny County, has declared his candidacy for Judge of the Commonwealth Court.
On Wednesday evening, the Allegheny County Bar Association reviewed Wojcik's credentials for a potential candidacy, and declared him as "highly recommended" for the position.
"I am excited to announce my candidacy for Judge of the Commonwealth Court", Wojcik said, officially tossing his hat into the ring. "My background in the practice of law in both the public and private sector has well prepared me for the challenges of being an appellate court judge, particularly on the Commonwealth Court, and I am deeply honored to have earned the highest possible rating for the office from my peers."
Wojcik became partner at Thorp Reed & Armstrong at the age of 35. From 2000 to 2004, Wojcik was solicitor for County Controller Dan Onorato, and served another eight years as solicitor for Onorato as Chief Executive of Allegheny County.
In 2013, Wojcik entered the race for Superior Court. He dropped out of the race shortly after, when the State Democratic Committee endorsed another candidate.
At present time, Wojcik is a senior counsel in the Pittsburgh office for Clark Hill PLC.