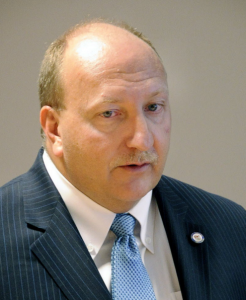 Thirteen months on from the FBI's raid of Allentown City Hall, heads have rolled but the man in charge remains.
But with Mayor Ed Pawlowski's contracting practices still under federal investigation, newly unearthed million-dollar relationships between the city and several law firms are now under scrutiny.
Three firms listed on the FBI subpoena served at City Hall last summer have made upwards of $4 million over the last decade from city contracts, according to a Morning Call review of campaign finance records and more than 400 pages of documents made public by the city after multiple right-to-know requests by the paper.
Stevens & Lee, a law firm hired mostly in cases involving lawsuits against the Allentown Police Department, has brought in $1.79 million in the ten years Pawlowski has been Mayor, Emily Opilo of the Morning Call reports. Tri-state law firm Norris McLaughlin & Marcus has made $1.73 million during Pawlowski's tenure and Philadelphia-based Duane Morris earned $319K.
More than $45K went the other way. Norris McLaughlin employees contributed $31,900, the Duane Morris Government Committee gave $9,500 and several Stevens & Lee employees donated $3,650 over the past decade.
In 2013, the city stopped using Stevens & Lee after purchasing insurance for lawsuits against police. Interestingly, the donations dried up, too.
Five Allentown officials and businessmen are scheduled to be sentenced for their roles in the pay-to-play corruption and kickback scheme in November: Mary Ellen Koval, former city controller; Garret Strathearn, former finance director; Matthew McTish, the former president of an engineering firm; real estate developer Ramzi Haddad; and former Pawlowski campaign manager/confidant Mike Fleck.
Former assistant solicitor Dale Wiles is set to be sentenced in September.
Fleck served as campaign manager for Pawlowski's run for Senate at the same time as he was wearing a wire for the FBI as part of the investigation. Fleck has since pleaded guilty and is facing up to 10 years in federal prison.
Pawlowski has not been charged by authorities, but it seems only a matter of time.