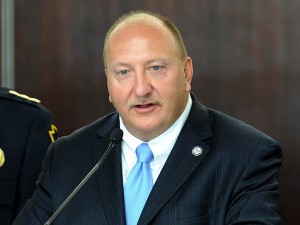 There's something happening in Allentown, what it is isn't exactly clear.
The news was somewhat buried by the long Fourth of July weekend, but on Thursday the FBI searched Allentown City Hall.
According to Emily Opilo of the Morning Call, the inquiry concerned a warrant for records dating back to 2005.
The subpoena was related to a grand jury investigation and agents asked employees about city contacts.
Mayor Ed Pawlowski didn't give any comment on the matter until two days later at a Fourth of July event. He brushed off any questions but his staff did issue a statement.
"While the city was not informed of the reasons for this investigation, we believe from the nature of the documents requested that the city's contracting process is under review," city spokesman Mike Moore stated. "The mayor would like the public to know that the city maintains a transparent contracting system, which, under city ordinance, requires employees solicit bids for specific items and quantities or prepare requests for proposals for any contract that exceeds $40,000."
While it's unclear at this point whether the investigation has anything to do with Pawlowski, this could very well still hurt the Mayor's young Senate campaign. It would also be terrible news for the PA Democratic Party which has already seen Rob McCord resign and Kathleen Kane implode this year.
Nevertheless, Pawlowski is still campaigning and even attended a hometown event with his primary opponent Joe Sestak this weekend.
While this story has yet to fully develop, it is definitely one to keep an eye on.
UPDATE: In a scathing blog post, Bernie O'Hare of Lehigh Valley Ramblings alleges that Fleck Consulting has also been raided by the FBI. Fleck Consulting is run by Mike Fleck, a former campaign manager for Pawlowski and a highly influential figure in Lehigh Valley politics.
If true, this would make it much more likely that the investigation involves the Mayor in some manner. PoliticsPA attempted to reach out to Fleck for comment but could not get a hold of him.
UPDATE 2: Even more intrigue:
Ed Pawlowski's Senate campaign website appears to be down: http://t.co/yHHX4uGRTS

— Laura Olson (@lauraolson) July 6, 2015
Office of Mike Fleck, Pawlowski's U.S. Senate campaign manager is locked and dark. His personal phone has also been disconnected.

— Emily Opilo (@emilyopilo) July 6, 2015
UPDATE 3: It now appears Fleck's political consulting firm no longer exists:
The consulting firm running the #PASEN campaign for Allentown Mayor Pawlowski (H Street Strategies) has been dissolved, per an ex employee

— Jonathan Tamari (@JonathanTamari) July 6, 2015
Letter to employees of consultant Mike Fleck says they're terminated as of July 2. Same day that Allentown City Hall was searched by FBI.

— Emily Opilo (@emilyopilo) July 6, 2015