http://youtu.be/Ih5az9Ub-A0
Gov. Tom Corbett is not up for re-election for another two years, but the American Working Families Action Fund is getting a head start. The group's new ad accuses Corbett of "making things harder" for the middle and working classes.
Spokesman Bud Jackson says the ad will air on network TV across PA except the Harrisburg market, where it will appear on cable. The total campaign, he says, runs in the hundreds of thousands of dollars.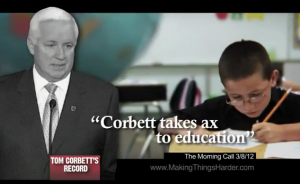 The ad starts with a clip from Corbett's 2011 budget address. "We have to spend less because we have less to spend," he says.
An announcer rebuts, "But Tom Corbett isn't spending less on his corporate friends and campaign donors.  He chose to give them tax-breaks. His staff, pay-raises. And new SUVs for himself and his wife."
"While eliminating health care for children," he continues. "And cutting our schools by more than one billion dollars. Tom Corbett isn't spending less. He's just making things harder for the middle-class."
Jackson said the ad is a "long overdue effort to shine a brighter light on Tom Corbett's record of rewarding his corporate friends and campaign donors while making things harder for the middle-class."
In addition, an online banner ad as well as a new website, www.MakingThingsHarder.com, is set to go live Wednesday.
The criticisms are familiar; Corbett has faced opposition from Democrats on many of his cuts. However, the claim that he cut a billion dollars from education is based on semantics. The final Rendell budget included federal stimulus funding for education that expired before Corbett took office; his 2011 budget actually increased state funding for education despite the fact that it saw a net loss.
Update: Corbett spokesman Kevin Harley said the Governor has been working to imrpove the economy for all Pennsylvanians.
"This is just another hit-and-run job by a political front group for the political left," he said. "Tom Corbett has been bringing Pennsylvania out of a recession by attracting new business while reining in spending. American Working Families, the sponsor of these attack ads, is run by a by a consultant political consultant with a history of pushing tax-and-spend candidates into office."
Jackson is well known in PA Democratic circles, having working closely with the House Democratic Campaign Committee on several campaigns. He's also cutting ads, like this one last year, for Eugene DePasquale's campaign for Pa. Auditor General.
Other clients have included state Reps. Frank Dermody, Mike Gerber, and Bryan Lentz.
This ad seems intended not only to show Corbett in a negative light, but to make him a general election liability for other Republicans.
Full disclosure: American Working Families also plans to advertise on PoliticsPA.
Corbett is only the second person to be put on the group's target list since the organization's inception last March (Wisconsin Gov. Scott Walker was the first).
Correction: The AWF Action Fund is a 501c(4); this ad is being sponsored by a regular PAC, not a super PAC (the group does have a super PAC arm, but that is not responsible for this ad).