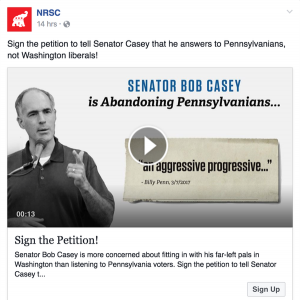 The National Republican Senatorial Committee (NRSC) is launching geotargeted Facebook and Google search ads in response to Senator Bob Casey's town hall meeting in Harrisburg tonight.  
Geotargeting in ads allows campaigns to put specific messages onto Facebook and Google search results of people who are in the area of an event.  
The NRSC is continuing their messaging of what they are calling Casey's "lurch to the left."  
"Bob Casey's new left wing persona may earn him praise from liberal activists, but it shows that he is completely out of touch with Pennsylvania voters. The NRSC will continue to remind Pennsylvanians that Casey does not have their backs in Washington," NRSC spokesman Bob Salera said in an email.  
The ads will be running just for the town hall tonight and ask those who see it to sign a petition.  
Ads like these are often run to gained earned media for the ads and to collect emails and tags for what people respond to.  
Casey's campaign declined to comment on this story.