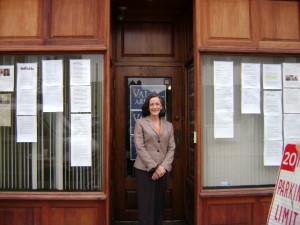 Val Arkoosh is a first-time candidate running in the crowded Democratic primary for PA's 13th district, the seat being vacated by Rep. Allyson Schwartz.
Arkoosh is a physician who has served as President of the National Physicians Alliance among other leadership positions in the industry.
Motivations to Run for Congress
We started with the question every candidate hears from voters, family, contributors, reporters and everyone else; Why do you want to run for Congress?
"That question is for me a very easy one to answer because I just think about my patients and there's one patient in particular I've really talked about a lot in this campaign and it's a woman named Sara."
Arkoosh went on to describe Sara's story of having a pre-existing heart condition that prevented her from getting health insurance. When she became pregnant at nineteen she prematurely went into labor at seven months. Arkoosh ending up treating Sara in 2009 while working for the Affordable Care Act and her struggles motivated her to seek further public service.
When asked if her lack of legislative experience could be a detriment if she were to win, the rookie candidate described how she still felt she has the tools necessary to succeed in a legislative body.
"Although I haven't held elective office, I have worked in incredibly political environments. Academic health centers are unbelievably political, particularly when you hold the department chair as I did for five years," she stated. "So I'm extremely familiar with politics per se. I also think that one of things that's really missing in Congress right now are members of Congress with strong policy backgrounds. I think that policy piece is in some important way more important than legislative experience."
Economy
The current economic debate has centered around dueling Keynesian and Austrian ideas about spending. So I decided to ask what issues, jobs or the debt and deficit, should take precedence in America's economic future.
"I actually was an economics major in college and I'm very focused on ways to grow our way out of our current problem. I feel strongly that we have got to start addressing the incredible income inequality that is present right now in our community and I strongly support raising the minimum wage as a first step."
The candidate mentioned that 35,000 families currently live at or below the poverty level in the 13th district and also voiced support for creating a public/private infrastructure bank, overhauling the tax code and closing loopholes that reward companies that send jobs overseas. She also asserted that families need to be able to earn a living wage in the $12 to $15 an hour range.
Differences from Opponents
Next, we delved into what separates the first-time candidate from her opponents.
"Well I think the number one difference is that I am not a career politician. I bring a very different set of perspectives, expertise and commitment to this race," Arkoosh asserted. "My perspective comes from over 25 years serving in Philadelphia hospitals and seeing the impact on patients and families of the political decisions in Washington. I have a policy expertise that none of opponents share but certainly not a lot of people in Congress share either. I bring a real commitment to actually solving problems. I bring to this race a commitment to actually get things done."
Specifically, I asked her about Marjorie Margolies who likely has the strongest name ID and is an in-law of the Clintons. In fact, Bill Clinton is set to hold a fundraiser for Margolies later this week. Meanwhile, Margolies has yet to appear at a candidate forum or debate.
"The Clintons are known for their loyalty and they're coming in to help a family member and you know good for them," Arkoosh responded. "I think that Marjorie's behavior in this race has been a little bit of an affront to the voters in the 13th Congressional District. We live in a democracy where every voter I think has the right to hear from every candidate and I think its part of her responsibility as a candidate to make herself available to answer questions from the voters. So the voters have to decide how they feel about her lack of participation in the process."
She went on to describe her campaign's fieldwork efforts including her fundraising, the opening of two field offices and upcoming plans to air broadcast TV ads.
"I'm probably the antithesis of Marjorie. I really believe in a grassroots campaign and getting out and meeting as many people as possible, I love that actually. Over time although people might recognize her name, they're gonna realize that I'm a much better candidate for this race. I'll be a much more effective member of Congress in Washington and really will be their ally in Congress, not just a representative that tried to coast in on name recognition."
Healthcare Reform
Unlike many Democratic candidates who have sought to distance themselves from the Affordable Care Act, Valerie Arkoosh is proud of her work in pushing to pass the legislation.
"I was President of the National Physicians Alliance and we were part of the Healthcare For America Now coalition and I worked as part of that coalition for both the policy side and the legislative side. We wrote seven policy papers that described how we would envision actually implementing those [President Obama's] principles in the law. On the legislative strategy side, I worked on numerous groups to visit various members of Congress and committees."
When asked how she can turn healthcare reform into a positive issue for Democrats, Arkoosh stated that supporters must stay vigilant about the positive impacts and on implementing the law.
"Once the law was passed a lot of those [pro-ACA] entities said 'OK, healthcare reform is passed we're gonna move on to something else'. And groups like mine that were on the ground we're like 'wait, wait, wait' passing the law was one thing but now the real work begins, implementation is the key thing. What we found was that many organizations that worked to get the law passed in the first place moved on whereas on the right there was never a letup. So, every group that was against the Affordable Care Act just continued to fund and to promote and pay for hundreds of millions of dollars of information in the form of advertisements and articles and all sorts of things. So the misinformation that is out there is enormous."
Arkoosh went on to say that those who are given the time to study the law understand its benefits and that public opinion will gradually change as people realize the truth. She also made clear that she wanted a public option in the law, stated that "in my heart I'm a single payer supporter" and called for Gov. Corbett to accept the Medicaid expansion.
Misc.
Given that if she is successful she'll be only one of out of 435 members of the House, how does she intend to stand out from the crowd?
"I bring a couple of unique attributes. First of all as a woman. Still only 20% of the members of the House are women. Secondly, there are currently 17 physicians in the House, three of whom are Democrats, there are no female physicians in the House or the Senate."
When asked what committees she would like to serve on, she mentioned the House Energy and Commerce Committee, as well as its subcommittee on health, and the House Ways and Means Committee. She cited Maryland Rep. Donna Edwards as a role model who could hold progressive values, be effective in Congress, and bring support and pressure in from the outside.
Towards the end of our interview, Arkoosh almost unconsciously gave a clear explanation of her vision as a candidate and why she is running.
"I tend to look at things comprehensively, I think it's part of my training as a doctor," she said. "I can't just look at one part of the problem because I know if I don't fix the whole problem, the patient won't be healthy."
PoliticsPA has scheduled similar interviews with State Rep. Brendan Boyle (D-Philadelphia) and Marjorie Margolies. You can view our previous interview with State Sen. Daylin Leach here.