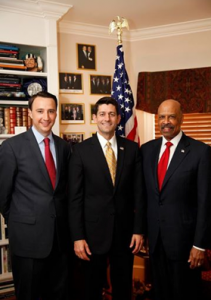 On Wednesday, Congressman and former Vice-Presidential nominee Paul Ryan made a surprise appearance at a National Republican Congressional Committee fundraiser for Ryan Costello, the Republican candidate for Pennsylvania's 6th Congressional District.
"Congressman Paul Ryan came to the district to talk about the importance of electing Ryan Costello to replace outgoing Congressman Jim Gerlach," explained Peter Towey, the Campaign Manager at Ryan Costello for Congress
Pennsylvania's 6th has been represented by Republican Jim Gerlach since 2003, but in early January 2014, Rep. Gerlach announced that he would not seek a seventh term in the Fall.
Additionally, Towey revealed that Rep. Ryan spoke of the significance of defeating Democratic candidate Manan Trivedi, who unsuccessfully ran against Rep. Gerlach in 2010 and 2012, and their current degree of confidence in the upcoming election.
"He (Rep. Ryan) also emphasized the need to defeat Manan Trivedi who will be a rubber stamp for the job crushing agenda of Nancy Pelosi and Barack Obama," Towey said. "In addition to holding a 2:1 fundraising advantage over his opponent of $526,000 to $234,000 through May 17, a recent survey showed Ryan Costello with double digit lead in the race."
The Chester County GOP initially posted images and messages about this event on Facebook and Twitter, but for some unknown reason, took them down a short time later.
When asked whether they were responsible for removing the photos and messages from the Internet, Towey stated that "we didn't take anything down from either of them."
Update: The DCCC accused the Costello campaign today of taking down the photos because they were afraid of associating themselves with Rep. Paul Ryan and his budget program.
"Clearly Ryan Costello doesn't want Pennsylvanians to know that former Vice Presidential nominee Paul Ryan and the special interest billionaires are the ones bankrolling his campaign," said Marc Brumer of the Democratic Congressional Campaign Committee. "Ryan Costello is trying to hide the proof because he doesn't want voters to know that he will be a rubberstamp for Paul Ryan's Republican budget plan to raise taxes on middle class families in order to pay for Congressional perks and huge tax breaks for billionaires and special interests."