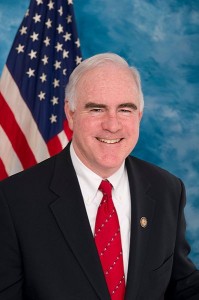 With the midterm elections in the rearview mirror, it's time to rearrange some of the seats of power.
If Congressman Pat Meehan has his way, he'll get one of the most powerful seats on Capitol Hill.
According to Jonathan Tamari of the Philadelphia Inquirer, Rep. Meehan is bidding for a seat on the House Ways and Means Committee. The committee, set to be chaired by Wisconsin Representative and 2012 GOP VP nominee Paul Ryan, is in charge of formulating tax policy.
Meehan is aiming to replace retiring Rep. Jim Gerlach on the panel. He is well positioned to become the Southeast PA voice on the committee. Gerlach's replacement, Ryan Costello, will be a freshman. Meanwhile, PA-8 Rep. Mike Fitzpatrick has more seniority but is set to retire after this upcoming term.
Additionally, as Tamari notes, Meehan has the advantage of his relationship with House Majority Whip Steve Scalise (R-LA). Congressman Meehan was the only SEPA representative to vote for Scalise during the leadership elections and a seat on the Ways and Means Committee would be a great show of thanks.
Rep. Meehan would join PA-3 Congressman Mike Kelly on the Ways and Means Committee if chosen. Congresswoman Allyson Schwartz currently sits on the committee but is retiring after her failed run for Governor.