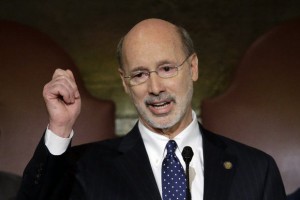 Now into the 12th week of state officials' budget standoff, Gov. Wolf is ready to meet Republican legislative leaders somewhere in the middle.
Wolf's administration has released an outline of the Governor's plan to lease the state's 601 Wine & Spirits stores to private enterprising, while maintaining the state's ownership of the overarching system, according to a report by the Pittsburgh Post-Gazette.
The first-year Governor also announced he is willing to implement a 401(k)-style plan for state and school employees, Katie Giammarise of the Post-Gazette wrote.
"Today, I put on the table historic reforms on pensions and liquor…two things that they say are very important to them," Wolf said at a press conference in the Capitol building.
And then Wolf's frustration with GOP legislators became clear.
"And what do I get in return? Nothing. I got nothing on a severance tax [on natural gas]. Nothing. I got nothing on education. Nothing. I got nothing on property tax relief. And I got nothing…on how we are actually going to balance this budget."
Under Wolf's plans, private lessees of the state's liquor stores would have control over the number and location of the stores, but would have to keep the state's unionized workforce.
Wolf vetoed a GOP-backed bill to privatize the entire liquor industry shortly after vetoing the GOP's budget at the beginning of July, causing months of budgetary inaction.