Pennsylvania Democrats are going hard after Gov. Tom Corbett's record in a short video ad released Monday called "Fits In."
"What's Tom Corbett's real record?" the ad's narrator asks. "Job growth's dropped from seventh to 46th. Tax breaks for his donors. Perks, raises for staff. Playing politics. Failed policies. Tom Corbett hasn't changed Harrisburg – he's fit right in."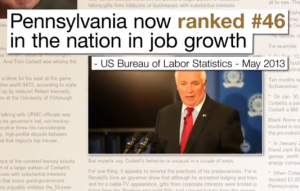 Corbett's 2010 campaign strongly sought to cast the former Attorney General as an outsider who would take on Harrisburg.
The ad flashes unflattering newspaper headlines across the screen during the voiceover, including "Pennsylvania now ranked #46 in the nation in job growth," "Corbett eyeing $1.65B natural gas tax break," "Corbett, wife accepted thousands in gifts from biz execs, lobbyists," "Preaching fiscal responsibility, Corbett gives aides $10,000 raises," and "Failure Of Agenda Another Setback For Corbett."
The 16 second spot will be advertised online, statewide, and "targeted to key voters and constituencies," according to the PA Dems. The party describes the buy as "sizable."
The ad is a clear response to Corbett's first campaign ad launched online two weeks ago, which boasted of the Governor's private sector jobs record.
Corbett campaign manager Mike Barley brushed off the video.
"If there ever was a laughable attack on Tom Corbett, the Democrats are trying it," he said.
"Tom Corbett has been pushing for reforms that have shook the corridors of power in Harrisburg for more than a decade. The Democratic Party and their slate of candidates continue to advocate for the same failed policies of the past – more government and higher taxes. Pennsylvanians cannot afford a return to the Democratic tax-and-spend agenda that led to $4.2 billion budget deficits and double-digit unemployment rates."
Corbett's campaign advertises on PoliticsPA.