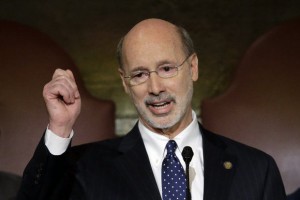 As the Supreme Court hears King v. Burwell, a case that could decide the future of federal marketplaces under the Affordable Care Act (Obamacare), Governor Wolf works to find a solution to replace the money that could be lost as a result of a Supreme Court ruling against subsidy eligibility. This ruling has the potential to affect 382,000 Pennsylvanians.
The Supreme Court case concerns the interpretation of the Affordable Care Act, as the legislation suggests that it was only meant to cover state-based exchanges.
To protect these 382,000, the Wolf Administration submitted an application to the Centers for Medicare & Medicaid Services (CMS) to continue the process of developing his contingency plan, which would ensure that Pennsylvanians would not lose health coverage in the event of an adverse Supreme Court decision.
Today, it was announced that CMS has conditionally approved the application to create a Supported State Based Marketplace.
As one of the factors of this conditional approval, the state will need to comply with federal regulations which require, among other things, the state to authorize the creation of a State Based Marketplace.
"I am pleased the federal government stands ready to allow Pennsylvania to move forward to protect 382,000 of our citizens from potentially losing subsidies that help them afford health care coverage," said Governor Wolf. "I am committed to protecting hard working Pennsylvanians and making sure they don't lose the assistance they need to afford health coverage."
Governor Wolf also notes that he, "look[s] forward to working with the Legislature to authorize a State Based Marketplace if it becomes necessary."