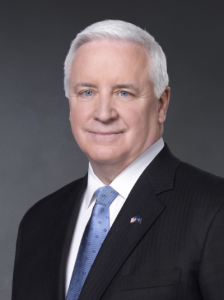 As Governor Tom Corbett faces what will likely be the electoral fight of his life later this year, 2013 was a very productive year for fundraising.
Corbett brought in $6,818,978 during 2013, along with another $3.5 million that rolled over from 2012. He has $7,512,371 total cash on hand.
It's 62% more than he raised at this point in the 2010 cycle. He raised $4.2 million towards his efforts in 2009.
The Governor received contributions from a large list of donors, including some of the most prominent business names in the state. Lance Shaner of the Shaner family for whom the PAGOP headquarters is named contributed $100,000. Al Boscov of Boscov's Department Stores is a Democrat, but he gave $100K. Corbett's biggest contributors, however, was John Templeton, a retired surgeon running a science foundation in SEPA, who gave $420,000, and H.F. Lenfest who gave $250K.
Central Pa. businessman John Moran gave Corbett a $47,000 helicopter ride.
The campaign also used their fair share of cash, ultimately spending $2,809,836 last year – 41% of the total amount he raised.
The state party and the Governor's campaign were closely intertwined – a practice that is par for the course in both parties. His campaign gave hundreds of thousands of dollars to the PAGOP for salaries and related expenses.
The governor spent $428,000 for the services of the ad agency Brabender Cox, $95,000 on polling from The Tarrance Group, and thousands to various database firms. He spent $42,000 at a July retreat with campaigns supporters at Bedford Springs.
Full disclosure: Corbett's campaign advertises on PoliticsPA.