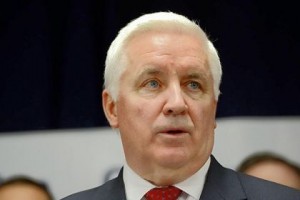 Governor Tom Corbett was made aware of 'inappropriate' emails shared among his former staffers, according to his Campaign Manager Mike Barley.
Gov. Corbett said in Pittsburgh last week that he had no knowledge of any sexually-explicit emails when he was Attorney General. He also made it known that special deputy Geoffrey Moulton, who was hired by the Attorney General's office, did not tell him of any such emails.
Moulton, a former federal prosecutor, interviewed Corbett in May 2014 as part of the investigation on how the Attorney General's office, while under the leadership of Corbett, handled the Jerry Sandusky child abuse investigation. One month later, Corbett was cleared of any wrongdoing by Attorney General Kathleen Kane.
Mike Barley reversed course on the initial statement from Corbett, saying Gov. Corbett was in fact made aware of the emails only after the interview by Moulton.
In a statement Barley said, "To clarify, the governor did not have any discussions with Mr. Moulton during the offical interview regarding this matter. After that interview concluded, Mr. Moulton told the governor that emails were uncovered during the investigation that may have been inappropriate."
The Tribune-Review formally requested access to the emails through the state's Right-to-Know Law, although a judge declined its request.
According to Barley, "(If) he would have known about any inappropriate emails being sent, he would have put a stop to that type of activity immediately. He would never condone that type of behavior, and if these reports are true, he will be very disappointed."
While unlikely to play much of a role in Gov. Corbett's re-election bid, it does represent another distraction for the campaign. Wolf currently leads Gov. Corbett by wide margins in a number of polls and every day not spent chipping into that lead is a day wasted.