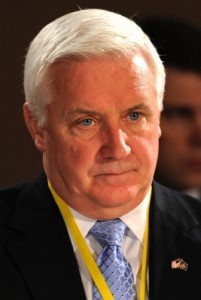 Numbers never lie, but Governor Corbett should hope they are at least a little off.
Coming off some recent bad polling news, the Corbett-Cawley campaign is likely looking for some good numerical news. Unfortunately for them, they won't find it at FiveThirtyEight.
The popular site run by Nate Silver ran a model on the nation's Governor's races that takes into account some of the common errors inherent to polling. Their study found Democrats with a favorable battlefield, in contrast to the Senate where Republicans hold the edge.*
The analysis run by author Harry Enten found that of all the gubernatorial races between two candidates, Pennsylvania is the fourth-most Democratically favored (behind New Hampshire, New York and California).
Enten compared Corbett to Illinois Governor Pat Quinn, a Democrat who is also dealing with budget troubles but whom the author said still has a chance.
"The same probably cannot be said for Pennsylvania's Republican governor, Tom Corbett," Enten wrote. "Still dealing with the fallout from the Penn State sex-abuse scandal (among other problems), Corbett is down nearly 20 percentage points to his Democratic opponent, Tom Wolf. To come back from this deficit, Corbett probably needs Wolf to say something outlandish."
Of course, there are still four months to go and polls can change, although according to FiveThirtyEight, the Governor is going to need them to start changing soon.
*This is partly due to term lengths, as the previous gubernatorial elections were held four years ago in the heavily GOP-titled 2010 election cycle. The previous Senate elections were held six years ago in the 2008 election cycle when Democrats prospered.