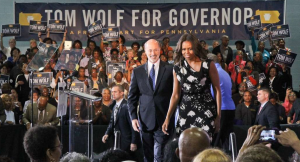 Michelle Obama spoke to several hundred people at the Dorothy Emanuel Recreation Center in Mount Airy to encourage Tom Wolf supporters to get out the vote this Election Day.
Michelle Obama's efforts come at a time when political analysts fear that Wolf's longstanding lead and the absence of competitive local races may reduce voter turnout.
The First Lady urged voters to remember that it was the record numbers of women, young people and minorities that elected her husband to office and that Tom Wolf needs that same support.
"I don't know if you remember, but people were shocked when Barack won — they're still shocked– because they were counting on folks like us to stay home," Michelle Obama said. "See, but then we proved them wrong. He's President because a whole bunch of folks who never voted before showed up in 2008 and 2012."
Tantamount to Mrs. Obama is that voters elect a candidate who supports Pennsylvania's schools, a higher minimum wage and equal rights for women. Tom Wolf, who has campaigned to restore the purported $1 billion the Corbett administration is said to have cut from public schools, raise the minimum wage and enforce equal pay laws, is in line with what the Obamas campaigned for in 2008 and 2012.
"If we don't elect leaders like Tom Wolf who will put our families first instead of just fighting for special interests, then we know exactly what will happen," she stated. "We'll see more folks interfering in women's private decisions about our health care. We'll see more opposition to immigration reform, to raising the minimum wage for hardworking folks."
Though she indicated that many voters believe the presidential election is most important, she urged voters to remember the influence of midterm elections when considering the bigger political picture.
"Your President needs you to be even more passionate and more hungry, because a lot of these midterm races will be even harder and even closer than those presidential elections," the First Lady said. "A lot of times we think, well, the President is most important — but who's your Governor?  Who's fighting for you on the ground?  Who's working with him in Washington? These elections matter."
Philadelphia is a crucial area for Wolf to carry in the election with Democratic voters outnumbering Republican voters seven to one. In addition to Mrs. Obama, Wolf has enjoyed support from former Secretary of State, Hillary Clinton. Wolf will soon be campaigning with the President himself in Philadelphia.